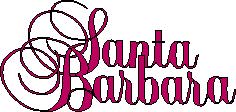 This is a list of crew members for Santa Barbara, which was originally compiled by Dina Bader al-Baijan, who lives in Kuwait. Please email me if you can add any names to the list.
CREATED BY:
Bridget Dobson
Jerome Dobson

WRITTEN BY:
Zak Aiken
Sheri Anderson
Jane Atkins
Anne Howard Bailey
Libby Beers
Meg Bennett
Bettina F. Bradbury
Rocci Chatfield
Richard Culliton
Digby Diehl
Madeline Di Maggio
Maggie DiPriest
Charles DiZenzo
Charlotte Dobbs
Bridget Dobson
Jerome Dobson
Mary Dobson
Judy Donato
Michael Dugan
Christopher Dunn
Frank Furino
Josh Griffith
Robert Guza, Jr.
Sam Hall
Linda Hamner
Don Harary
Shelby Hiatt
Hoyt Hilsman
Kim Beyer-Johnson
Cindy Lou Johnson
James Kirkland
Victoria Lane
N. Gail Lawrence
Elaine Loeser
Pamela K. Long
Jayne Martin
Joan McCall
Virginia McDonnell
William Mernit
Patrick Mulcahey
Frances Myers
Lynda Myles
Bruce Neckels
Roger Neuman
Martha Nochimson
Maura Penders
Charles Pratt, Jr.
Thom Racina
Samuel D. Ratcliffe
Pete T. Rich
David J. Ross
Michael Russnow
Frank Salisbury
John Schwartz
Courtney Simon
Judith Singer
Robert Soderberg
Millee Taggart
Maralyn Thoma
Gary Tomlin
Jack Turley
Michele Val Jean
Glen Worden

DIRECTED BY:
Rick Bennewitz
Gary Bowen
Peter Brinkerhoff
Linda Day
John Desmond
Harry Eggart
Ellen Falcon
Dolores Ferraro
Pamela G. Fryman
Bill Glenn
Michael Gliona
Christopher Goutman
Norman Hall
Jeffrey Hayden
Bob LaHendro
Anthony Morina
Bill Meers
Karl Messerschmidt
Julian Neil
Gordon Rigsby
Robert Schiller
John Sedwick
James Sheldon
Phil Sogard
Nicholas Stamos
Dennis Steinmetz
George Thompson
Diana Wenman
Andrew D. Weyman
Jorn Winther
John Zak

ASSOCIATE DIRECTORS:
Dick Amos
Jolie Lynn Barnett
Lauren Breiting
Mary Dobson
Pamela Fryman
Phyllis Guarnaccia
Jeanine Guarneri-Frons
Joanne Goodhart
Julie Hanan
Grant A. Johnson
Kevin M. Meagher
Steve Muscarella
Howard L. Ritter
Robin Raphaelian
Robert Schiller
Emm-Jay Trokel

ART DIRECTORS:
George Becket
James Carhart
Richard Harvey
Jason Russo
Joe Russo
Joe Stewart

ASSISTANT ART DIRECTORS:
Cherie Bailey
Linda Berger
Paul Biondolillo
Randy Blom
James Carhart
Phil Dagort
Laurie Davis
Jerry Dunn
David Edminster
Jack Forrestel
Michael Foxworthy
Bob Franklin
Alex Fuller
Melody Boyd Harrop
Richard Harvey
Renee Hoss
Mike Hynes
Lisa Kapstrom
Pamela Klamer
Grif Lambert
Elizabeth Matta
Kate Murphy
Scott Murphy
James O'Donnell
Dan Olexiewicz
Robert Rappaport
Richard Reynolds
Greg Richman
Jason Russo
Joe Stewart
Richard C. Walker
Jim Yarmer
Elsa Zamparelle

EXECUTIVE IN CHARGE OF PRODUCTION:
Gerald Ament
SUPERVISING PRODUCERS:
Steven Kent
Charlotte Savitz
ASSOCIATE PRODUCERS:
Debbie Bachtell
Jeffrey Lerner
Edlyne (Pat) Lloyd
Angelika Markus
Eric Preven
Daniel McCaffrey

ASSISTANT PRODUCER:
Eric Preven
PRODUCTION MANAGERS:
Debbie Bachtell
Charles Bond
Jack Breschard
Joel Hornstock
Forrest Ludwig

PRODUCTION COORDINATORS:
Sandy Childs
Brad Garfield
Susan Levin
Carla Mangia
Randy Padgett
Scott Pearson
Robert Powers
Eric Preven
Susie Pringle
Rob Robertshaw
Rachel Travers
Cricket Wheeler

PRODUCTION ASSISTANTS:
Jolie Barnett
Kelly Haus Bross
Dona Cassella
Mary Dobson
Jeanine Guarneri
Julie Hanan
Diana Horn
Grant A. Johnson
Jan Luce
Carla Mangia
Suzan Marconia
Christopher Mullen
Wendy Neckels
Robin Raphaelian
Catherine Sedwick
Scott Shiffman
Darlene Wassetheur

PRODUCED BY:
Diane Asselin
Leonard Friedlander
Julie Hanan Carruthers
Lisa S. Hesser
Francesca James
Steven Kent
Jill Farren Phelps
Dennis Steinmetz

EXECUTIVE PRODUCERS:
Mary-Ellis Bunim
John Conboy
Bridget Dobson
Jerome Dobson
Jeffrey Heyden
Jill Farren Phelps
Charles Pratt, Sr.
Paul Rauch

NBC PRODUCTION MANAGERS:
Walter Lewis
Joe Nacey
Tim Stevens

NBC PRODUCTION COORDINATOR:
Jeri Fowle
COORDINATING PRODUCERS:
Kevin Hamburger
Eric Preven

CONTINUITY SUPERVISORS:
Christopher Dunn
Jeff Glasser
Keri McIntyre
Cindy Nexon
Tom Parks

SCRIPT TYPIST:
Murray L. Calvert
CUE CARDS:
Keith Langdon
WRITERS' ASSOCIATE:
Catherine Chacon Sjolund
WRITERS' AIDE:
Robert Chatlin
WRITERS' ASSISTANT:
Rob Des Hotel
Penny Moore
Catherine Chacon Sjolund

EXECUTIVE ASSISTANTS:
Cherie Guidotti
Gary Kanofsky
Jeffrey Lerner
Daniel McCaffrey
Gary Tyler
Darlene Wassertheur

PRODUCTION ACCOUNTANTS:
Michelle Guillory
Allen Grossman
William Schultz

PRODUCTION SECRETARIES:
Tori Meuller
Yvonne Partridge

OFFICE ASSISTANTS:
Mary Brotis Anderson
Mitch Burman
Tricia Celic
Rob Chatlin
Wendy Ann Corwin
Jonathan F. Fishman
Jeffrey R. Lane
Melissa McDowell
Scott Pearson
Robert Powers
Peter J. Reller
Scott Shiffman

OFFICE ADMINISTRATOR:
Linda Telles Demeduk
PRODUCTION DESIGNERS:
George Becket
PRODUCTION CONTROLLER:
Marianne Duncko-Fischer
Allen Grossman
CASTING COORDINATORS:
Cynthia Ellis
Tricia Celic McRae
Jody Gibson
Norman Schmoller
CASTING BY:
Reuben Cannon & Associates
Annette Benson
Barbara Claman
Ruth Conforte
Carol Dudley
Pam Polifroni
Jan Powell
Mikki Powell

CASTING ASSOCIATES:
Eileen Kerrigan
Gary Oberst
Jan Powell
Mikki Powell

HEAD PROP:
Steve Bemiller
Greg Elliot
Gonzo Gonzales
Robert Hayes
Rob Hayne
Garry McNutt
Steve F. Nelson
Frank Otello

CAMERAS:
Regina Archer
Les Atkinson
Marvin Ault
Don Barker
Bruce Battone
Jim Bragg
Marshall Branch
David Bushner
Phil Cantrell
Dean Cosanella
Louis Cywinski
Mike Dodds
Wayne Getchell
Mike Higuera
Jim Herring
Roydon Holm
Reed Howard
Corey Kimball
Schani Krug
Ron Lawson
Ray Liu
George Loomis
Tom Luth
Frank Marciante
Michael Mecartea
Dana Martin
Robert Nash
Wayne Nostaja
Jay O'Neil
John O'Neill
James B. Patrick
George Simpson
Greg Smith
Mike Stramisky
Dan Sutton
Kurt Tonnessen
Victoria Walker
Harold Weatherly
Peter Xiques

CAMERA UTILITY:
Mike Citzen
Steve Ryen

MUSIC COMPOSED BY:
James Patrick Dunne
Joe Harnell
Dominic Messinger
Rick Rhodes

MUSIC SUPERVISORS:
Paul Antonelli
Billy Childs
Jonathan Firstenberg
Liz Lachman
Dominic Messinger
Jill Farren Phelps
Rick Rhodes

MUSIC ENGINEER:
Harry Young
THEME BY:
Joe Harnell
MUSIC:
Bruce Bodor
Tom Luth
Randy Padgett
Jerry Shirar
All Taddeo
Harry Young

SOUND EFFECTS:
David Amaral
Orie Amodeo
Deedra Bebout
Bill Brownell
Geoffrey P. Cooper
Frank Demarca
Chuck Droege
Randy Padgett

SENIOR UNIT MANAGERS:
Chris Conte
Michael Koljan
Ruthanne Morris
Tom Patino

UNIT MANAGERS:
Charles Bond
Chris Conte
Tim Danker
Dan Ford
Carl S. Geller
Robert Kunstman
Angelika Marcus
Glenn Miller
Ruthanne Morris

COSTUME DESIGNERS:
Bill Belew
Robert Berdell
Richard Bloore
Susan L. Clare
Diana Eden

MAKEUP BY:
David Abbott
Kim Adrissi
Debra De Angeles
Tania Kahale
Lois Kawasaki-Harriman
John Maldonado
Dawn Marando
Nancy Schuch
Martha Scribner
Carlos Yeaggy

HAIRSTYLING BY:
Sandy Bailey
Lucia Castenada
Patti Grover
Robin Grubich
Jackie Masteran
Janet (van Manen) Medford
D.J. Plumb
Kim Salvatore
Kim Schull
Valerie Scott
Laurel Van Dyke

WARDROBE:
Craig Aspen
Rick Boote
Susan L. Clare
Teena Huesser
Mary Lane
Pamela Manning

STAGE MANAGERS:
Jerry Adler
Jack Breschard
Bruce Cook
Joelle Dobrow
Rick Fusari
Phyllis Guarnaccia
Andrew Lee
Joe Lumer
Chris Magarian
Jim Mancuso
Jerry Masterson
Carl McCarthy
Cordy Morris
Rick Oxford
Bill Rosenthal
Robert Schiller
Sheila Stewart
Lisa Winther
Fred Witten
Carlos Yeaggy

AUDIO:
Bill Cole
Dave Cone
Ron Estes
Jim Kigar
Thomas Pearson
Hector Sarabia
Jeffrey Smith

AUDIO UTILITY:
Bill Hill
BOOM OPERATORS:
Jerry Eventide
Jackie Frazier
Peter Ixquies
Don Johnson

SENIOR VIDEO:
David Lee Baca
Doug Dessero
John Dirnberger
Bill Guardhouse
Harold Ingels
Don Johnson
Brian Jorgensen
Stephen Kamen
Scott Lee
Ray Olsen
Robert Pearson
William Pearson
Arnie Shapiro
Gerald Smith
Paul Zigabarra

VIDEO:
Brian Jorgensen
VIDEOTAPE:
Robert Bice
Gary Bivona
Bruce Brinkerhoff
Gary Caplin
Gary Cheney
David Crosthwait
Patricia M. Dato
Dave Gayden
David S. Lewis
Bill Paulsen
Roger E. Pickett
Ray Rivera
Larry Rosenblum
Jerry Wade

VIDEOTAPE EDITORS:
Ken Baker
Michael Beltran
Bruce Brinkerhoff
Elizabeth Carlson
Gary Cheney
Schooner Darrow
Mason Dickson
Mike Dowell
Chuck Droege
Dave Gayden
Sheila Hall
Jesse Hoke
Steven J. Leon
David S. Lewis
Tony Lopez
David Mawhinney
Sam Patterson
Betsy McGowen
Jim McQueen
Jerry O'Neill
Tery Pickford
Ray Rivera
Barney Robinson
Karl Rueby
Richard R. Russel
Shel Sandman
Robert Veatch
Jerry Wade
Craig Wolf

EDIT ASSIST:
Bruce Brinkerhoff
SPECIAL EFFECTS:
Vince Collins
Jimmy Cotten
Chuck Hughs
Paul Nichols
Mark-Ross Sullivan

TECHNICAL DIRECTORS:
Julian Bender
Lisi Crane
Louis Cywinski
Ray Figelski
Lou Fusari
Mike Higuera
Robert Holmes
Skip Hornbrook
Anton Koper
Walter Livitsky
Rick Lombardo
Karl Messerschmidt
Henry Moreno
Dick Roecker
Walt Romansky
O. Tamburri
Jerry Weiss

LIGHTING DIRECTORS:
Jeff Barr
Art Busch
Steve Cunninham
Patrick Day
Brian McRae
Ann E. Morrison
John Nance
Dick Pickens
Ted Polmanski
Robin Strickland
Mark Torromeo
Kirk Witherspoon
Olin Younger

TECHNICAL MANAGERS:
Doug Dessero
George Falardeau
Manny Montez

STAGING SERVICES MANAGERS:
Guy Caruso
Joe Nacey
HEAD ELECTRIC:
Mark Lacey
Bob Lacy
Art Mattison
Jeff McCloud
Mark Torromeo

ELECTRIC:
Gary Barlow
Joe Conley
Jeff McCloud
Mark Torromeo

HEAD CARPENTER:
Bob Holdsworth
Mike Lega
Jim Ludwig

MAINTENANCE:
Chuck Klien
INVENTORY COORDINATOR:
Brad Garfield
INVENTORY SUPERVISOR:
Jeffrey Voorhies
PRESS PR COORDINATOR:
Mary Brotsis Andersen
PROP/STAGE CREW:
Steve Bemiller
Larry Carter
Jimmy Cotton
John DeFillipo
Robert Hayne
Bob Holdsworth
Corri Levelle
George Krumpelman
Pamela Masters
Donald MacReynold
Mark McCloud
Danny Masoero
Frank Othello
Art Painter
Carl Peterson
Randy Pitken
Frank Rose
Sandy Rose
Sid Shapiro
Larry Stoliker
Paul Strahs
Charlie Vidmar

CONSULTING ATTORNEY FOR COURTROOM SCENES:
Dennis G. Merenbach
UNDERWATER CONSULTANT:
Nicholas Coster
MEDICAL ADVISOR:
Joanna Girard
MEDICAL CONSULTANT:
Bruce Hensel
LEGAL CONSULTANT:
Sue L. Wise
STUNTS BY:
Mary Albee
Corey Eubanks
Trace Eubanks
Angelo Lamonea

WALT DISNEY WORLD PRODUCTION STAFF:
Andrew Baird
Melissa Bottloy
Gary Bristow
Jim Campbell
Rick Campbell
Chris Debier
John Derussey
Jim Fay
Fran Fels
Terri Gallagher
Mike Gooseman
Jay Grindrod
Tim Klein
Suzanne Laface
Jerry Maibos
Diane Moore
Ruth Morehouse
Terry Neudecker
Caroline Nichols
Dick Palmer
Jonathan Taylor
Jim Weathers
Yolanda Winters

MISCELLANEOUS CREDITS:
Some Women's Wardrobes Furnished by
Barbara Barbara
Earthquake News Footage Furnished by
KTLA TV
Fire Footage Furnished by
KSBY TV Santa Barbara
Cruiser Furnished by
Regal Marines Industries, Inc.
Tuxedos Furnished by
Formal Touch
Men's Formal Wear Furnished by
After Six
Some Jewelery Furnished by
Steve Sasco Designs, Ltd
Fur Provided by
Somper Furs of Beverly Hills
Julie Ronnie's Wardrobe Furnished by
M. Fredric
Some of Ms. Meadows Wardrobe Furnished by
Luis Estevez Enterprises
Cruz & Eden's Dance Choreographed by
Joanne DeVito
Music Video of A-HA
Courtesy of Warner Bros. Records
Cerebral Tracer Furnished by
CNS, Inc.
Piano Furnished by
Schafer & Sons
Actors Portraying Ronald Reagan, Johnny Carson, and Kate Jackson are Look-Alikes.
Hotel Accomodations Furnished by the Monterey Sheraton
Location Site Furnished by the Stone Pine Estate Resort
Can't Help Falling In Love With You Furnished by
EMI America Records and Chappel Music
Dance of the Renaissance
Courtesy of Sundown Records
Air Supply Performance of Black and Blue Furnished by
Arista Records
Air Supply Performance of Stars in Your Eyes Furnished by
Arista Records
Dedicated in Loving Memory of Darlene Wassetheur who died May 16, 1991
In Loving Memory of Michael Gliona -- June 3, 1991
Transportation furnished by Delta Airlines
A Christmas Gift performed by Richard Searles and Gilbert Yslas
courtesy of Sundown Records
Jack's Theme performed by Dave Grusin
courtesy of GRP Records
Locations and Production Facilities furnished by
Disney-MGM Studios Florida
Accomodations furnished by
Disney Contemporary Resort
Location Lighting Designed by
Jeff Engel
Moments in Love performed by Art of Noise
courtesy of China Records
I Can't Stop Thinking About You
Performed by Herb Alpert
from the A&M Album North on South Street
How Deep Does It Go performed by Carl Anderson
courtesy of GRP Records
My Love Will performed by Carl Anderson
courtesy of GRP Records
My Favorite Year performed by Michael Feinstein
courtesy of Elektra Records
(c) Dobson Productions in Association with
New World Television
Return to the Santa Barbara home page