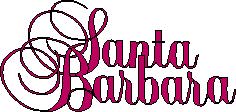 850
Julia feels guilty when Tori is arrested for driving while intoxicated. Keith is upset because of Gina's affair with Scott. Alex makes a statement. Eden finds out that Kirk was the one who made the symbols. Cruz begins to look for Eden.
851
CC's drilling platform is on fire, and the casualties are being transported to the hospital. Tori begs Keith not to tell Mason about her arrest. Mason discovers that the drilling platform is registered in Pamela's name, so she has to pay for the consequences. Kirk ties up Cruz and Eden, and he covers them with gasoline.
852
Tori decides to sign up for a rehabilitation centre. Cruz manages to free himself, and he attacks Kirk. Pamela want to sue CC. Jeffrey and Kelly hope that she will abandon this thought, but Mason wants her to persevere.
853
Kirk is being overpowered and arrested. All charges against Cruz are being withdrawn. Cruz tells Alex that Elena killed herself. Pamela thinks about leaving Santa Barbara, but Mason does not want her to set off. Pamela tells Alex that there is no possibility for them to continue to have a relationship in the future. Eden and Cruz are off to Hawaii.
854
CC complies with Mason and Pamela's demands. Tori brings Chip to Julia and leaves for the rehabilitation centre. She tries to convince Mel to join her. Mason gets drunk during the opening of TJ's nightclub. When Mason insults CC, Ted knocks him down. Pamela and Jeffrey fight about Kelly.
855
Kathleen impresses Scott on her first day at work. The detective agency receives a very important assignment. Keith buys Gina a Christmas tree and he decorates it. Hayley thinks that TJ has a bad influence on Jake. Gina discovers that she has regained her eyesight, but she does not tell Scott about it. In the mean time, Cruz and Eden are having the time of their lives in Hawaii.
856
Pamela is very disappointed because Kelly and Jeffrey prefer to go on a skiing trip. Tori is desperate, and she wants to spend the Christmas holidays at home, but Mel talks her into staying in the rehabilitation centre. Pearl is the victim in a robbery.
857
Gina receives a very special Christmas gift, and she thinks Scott gave it to her. To her utter amazement, she finds out Keith to be the generous donor. Sophia believes that Pamela is a troublemaker, and she throws a cake in her face. Keith arrests Santa Claus. Cruz meets an old friend from his CIA days.
858
Keith wants Mason and Julia to go looking for Kris. Jeffrey and Kelly decide to spend Christmas without their families. Keith arrests Scott. CC wants Sophia never to leave him again.
859
Mason and Julia have a dream in which they go to bed together. When they wake up, they feel ashamed about this. Cruz tells Eden about the offer that has been made to him by the CIA. Julia and Chip visit Tori. TJ cannot bear to turn Olivia down.