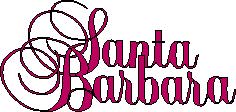 Here are links to other Santa Barbara-related resources on the Internet. Please e-mail me if you would like your link considered for inclusion on this page. Also, please notify me if you encounter any broken links.
Other Santa Barbara Pages:
Rina's Santa Barbara soap homepage This site includes many links to pages of Santa Barbara actors.
Andreas Enbacka's Soap Opera Home Page Part of this site is dedicated to Santa Barbara.
Mason and Julia Tribute Page This site has transcripts of some of Mason and Julia's most memorable scenes.
The Santa Barbara Tribute Page This page was created by Tzach, a viewer in Israel.
Santa Barbara Rundschau This page is mostly in German, but parts of it are in English.
Eden and Cruz's Place This page is dedicated to the "greatest couple ever on daytime."
The Santa Barbara Memory Homepage Created by a viewer in the Netherlands.
Carrington Garland & Christina Brascia Dedicated to these actresses and their roles on SB.
The Santa Barbara Scrapbook This site has quite a few images and a bunch of old interviews with various SB actors.
Santa Barbara (Le Site Francais) An excellent French site with most pages translated to English. It has quite an impressive collection of photos.
Mason and Julia Transcripts Another page with transcripts of Mason and Julia scenes.
Santa Barbara (Spain) This page was created by a viewer is Spain and has translations in Spanish and English.
The Capwells of Santa Barbara This page was created by a longtime SB viewer who also writes articles about the Soap Opera world.
Debbie's Cruz Control Site More images of Cruz and Eden.
Santa Barbara (Russia) This page is mostly in Russian, but has some English translations here.
SBitalia This Italian site includes story summaries, a cast list, and photos from Italian magazines.
Santa Barbara Community (Spain) Another page in Spanish with some translations in English.
The Museum of Santa Barbara (Russia) Photos and articles in Russian.
CaliforniaClan.de (German) Photos, articles, episode summaries, music and more, all in German.
Cultsoaps Santa Barbara Page Lots of great information on this page, including a character episode guide, descriptions of weddings and other special episodes, and a curiosities page for those little known facts.
The Site of Mason and Mary English translation of a Russian that has some great screenshots of Mason and Mary as well as descriptions of their storylines.
Santa Barbara Stars Pictures, articles, and video captures of episodes.
Barbarian Television The Worldwide Santa Barbara Network. A fabulous new site by and for SB fans who wish to interact with each other, share clips, and promote the series with the goal of making the entire series available via download or rebroadcast.

Very Cool links:
Rick Rhodes Rick won three Emmys for music he wrote for Santa Barbara! Unfortunately, Rick passed away in November 2005.
A Martinez A Martinez played Cruz Castillo from 1984-1992 and won an Emmy in 1990!
Santa Susana Repertory Company This theatre organization was founded by Lane Davies, who serves as Artistic Director.
Kingsmen Shakespeare Company Lane Davies' other theater company.
Lane-Davies.com The Official Website
Nancy Grahn The Official Website
Marj Dusay The Official Website of Marj Dusay contains her bio, photos, and a link to her Chat Club.
Stephen Nichols His Official Website
Harley Jane Kozak Her Official Website has info on her book and her upcoming appearances.

Discussion Links:
SantaBarbara e-mail discussion list This link allows you to subscribe to an e-mail discussion group about Santa Barbara. You can also read the Archives there if you want to get a feel for it before subscribing.
Get_SB_on_TV e-mail discussion list This is the current e-mail discussion group for fans who want to help with or just stay informed about efforts to bring Santa Barbara back on the air.
santabarbaralives e-mail discussion list This e-mail discussion group was formed to gather support to bring Santa Barbara back on the air in the United States. This list is no longer active.
Laken's Santa Barbara Discussion Page An excellent web-based discussion forum for Santa Barbara.
The Cruz 2 Eden Board A web-based discussion forum especially for Cruz and Eden topics.
Marcy and A Admiration Society This discussion board is gets lots of action following Marcy and A on their current shows.
Russian SB Message Board This discussion board is mostly in Russian, but posts in English are also welcome.
Santa Barbara Fans Tape Trading In addition to a message board for tape trading, there are also boards for general SB discussion.
Usenet newsgroup rec.arts.tv.soaps.misc The Usenet newsgroups for discussion of soap operas have been around for over ten years, but often don't get as much publicity as web pages. There usually isn't very much Santa Barbara activity there anymore, but it's still occasionally used as a forum for discussion of the show. Make sure you put "SB" in the subject if you post an article there. If you're not familiar with Usenet newsgroups, you may need to ask your system administrator or Internet service provider to help you get started.

Tape Trading Pages:
Please be careful when trading with people you do not know. If you have any bad experiences with tape-trading, please let me know and I'll publish the information so others can avoid similar problems.

I have been told that Tula and Ksusha from Russia have not delivered on their promises to send SB tapes. Be careful with these traders.

Santa Barbara Fans Tape Trading A message board for SB tape trading. Post what you have and what you're looking for here.
Classic Santa Barbara Videos This page is maintained by an Another World fan who has SB tapes for sale. He is quite reputable among AW fans. My personal dealings with him have been positive as well.
Lisa's SB Tape Trading Page Lots of info on SB tapes for trade as well as some SB links.
Santa Barbara Tape List An extensive collection of SB tapes available.
Soap Opera Trading Features a list of SB tapes for trade, including some very early episodes.
Tape Trading for Daytime Soap Operas There are some SB tapes listed here for sale or trade.

Santa Barbara Actors and Actresses Fan Pages:
Also check out Rina's SB page for many more links not listed here!

Dame Judith Anderson
Julie Condra
Lane Davies Contains many Santa Barbara-related articles from soap magazines.
Timothy Gibbs This is his official home page.
Nancy Grahn A tribute to her current role on General Hospital as Alexis Davis
Nancy Lee Grahn message board
Terry Lester Tribute site
A Martinez
Judith McConnell
Stephen Nichols
Christopher Norris Christopher Norris Appreciation Page
Thaao Pengalis Thaao's Web Site
Melissa (Brennan) Reeves
Gordon Thomson
Tamlyn Tomita Be sure to check out the Gallery, which has pictures of her from Santa Barbara
Ally Walker The Ally Walker Fan Task Force
Robin Wright
Robin Wright A site with articles and lots of photos.


Return to the Santa Barbara home page