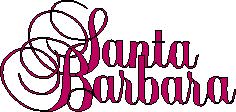 From the July 20 ,1994 issue of Soap Opera Digest.
Santa Barbara: The Class of '84
On July 30, 1984, NBC launched SB, the first daytime soap set in the California sunbelt and featuring prominent Hispanic characters, a $30 million production budget, and a bonafide member of the British nobility: Dame Judith Anderson as matriarch Minx Lockridge.
From the start, SB suffered low ratings, and things didn't improve much. Early in 1993, NBC pulled the plug. But in true soap fashion, SB never quit "died." Today, on the eve of its 10th anniversary, original SB episodes are still running in over 40 foreign countries. The show's cast and creative forces haven't fared badly, either:
o A Martinez (ex-Cruz) just starred in the USA cable movie DECONSTRUCTING SARAH after a stint a LA LAW.
o Marcy Walker (ex-Eden) plays Tangie on Guiding Light.
o Robin Wright (ex-Kelly) is co-starring with Tom Hanks in FORREST GUMP.
o Charles Pratt, Jr. one of SB's chief writers, went on to produce MELROSE PLACE and MODELS INC (see story, page 11).
o Nicholas Coster (Lionel) and Louise Sorel (Augusta) have resurfaced on other soaps. He's ATWT's Eduardo; she's DOOL's Vivian.
o Mary-Ellis Bunim (ex-Exec Prod) masterminds THE REAL WORLD on MTV.
o Pam Long, SB's last head writer, is now writing/supervising producer for the CBS series, CHRISTY.
"That's a pretty deep pool of folks on one show," say Brian Frons, who was head of NBC Daytime during SB's launch. Frons is now president/World- wide Creative Affairs for New World Television, spearheading new soap ventures like VALLEY OF THE DOLLS.