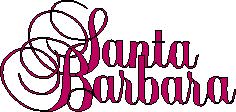 This is from the June 14, 1988 issue of Soap Opera Digest.
"Ask Us" section:
Q. Who killed Elena Nikolas on Santa Barbara? Also, where has Pamela Capwell been all these years? How was she found?
A. Elena had been programmed by Kirk Cranston to kill herself, which she did -- though Cruz believed he had killed her during their struggle. Pamela was presumed dead after jumping off Manhattan's 59th Street Bridge, but she was institutionalized. Gina's snooping led her to discover that Pamela was alive. To hurt C.C., she found Pamela and brought her to Santa Barbara.
Q. In a recent issue, Nancy Grahn (Julia, Santa Barbara) mentioned that she had worked with Bruce Willis. Was it on an episode of Moonlighting?
A. Yes.
"Round Up" section:
Q. When were you most proud of your child?
Ron McKee, father of Todd McKee (Ted Capwell, Santa Barbara).
"I can't pinpoint one thing in particular, I really can't do that, but a special memory comes to mind of when Todd was about two years old. We lived in a place called Kent Woodlands, which is in Northern California. Our house had a rear deck which overlooked the valley and Todd, my wife Myrna and I would spend many evenings out there staring at the moon and the stars. We'd say, 'Look Todd, the moon, the stars,' and he'd say, 'Ooh, ooh mulu and tars.' When he did that I just had to hug him. I am proud of the fact that Todd was loved as a child and knows it."
"The Young and the Talented Soaps' Junior Actors" article:
Justin Gocke
Character: Brandon Capwell, Santa Barbara
Date of Birth: January 31, 1978
Age you go into show business: Six and a half years.
Professional Experience: My first job was playing Farrah Fawcett's son in "The Burning Bed." I've also appeared on "Simon & Simon," "Slap Maxwell," "Hotel," Mr. Belvedere," "The A Team," "Love Boat," "Blacke's Magic," and "The Wizard."
How did you get into show business? I wanted to be on TV, so a friend gave me some names of agents and appointments were set up. A few were interested, so we picked the one that we thought would be best for me, Judy Savage, and we were right.
What happened at the soap audition? It took four interviews before Santa Barbara made a decision. Each time there was a new script and different people (directors, casting agents, producers) to meet. It was exciting.
Favorite music: Belinda Carlisle, Michael Jackson's "Bad" album.
Favorite foods: Spaghetti and pizza.
Favorite TV shows: "Family Ties," "Alf," "Day by Day."
Favorite actors: Alf, Michael J. Fox.
People would be surprised to learn that I ... want to be in the military when I grow up.
The advantages and disadvantages of being on a soap: I can't think of any disadvantages. It's a great experience. The SB cast and crew are really nice and make me laugh a lot and I love it when someone recognizes me.
"All the Stories from All the Shows" section:
Scott diagnoses Chip's disease as aplastic anemia, then informs Tori and Mason that their son is going to need a bone marrow transplant. Both of them will have to be tested for compatibility, Scott adds. After learning that she isn't a suitable donor, Tori knows she must turn to Cruz.
Cruz learns the truth
Tori tells Cruz of Chip's condition, then reveals that he -- not Mason -- is the boy's father. If it weren't a life-and-death situation, she would never have told him, Tori cries, and adds that she kept the news a secret so nothing more would come between him and Eden. A shocked Cruz agrees to help.
After being tested, Cruz returns home to Eden, who greets him with a glass of champagne. Her father has offered to let them use the house in France, Eden gushes. Although he doesn't want to ruin Eden's excitement, Cruz has no choice. Eden bravely tells her husband that Chip needs his help. Privately, Eden fears that things will never be the same. And she's upset that she wasn't the one to give Cruz his first child. The next day Cruz gets the go-ahead. After the transplant, Tori tells Cruz that his responsibility ends here. But Castillo assures his ex-lover that he's here for her and Chip.
Kelly loses the baby
Not wanting Armonti Industries to lose the account, TJ tells Kelly he has rented a car so they can drive to the Billings Airport and get to Chicago. However, the car breaks down and they end up in an old barn for the night. Though Kelly blames TJ for everything, she eventually calms down and calls a truce. Things get bad when Kelly doubles over in pain. TJ goes for help and returns with a farmer and his wife, who move Kelly into their house and into bed. For the first time, TJ and Kelly are not battling. Kelly talks so intimately about the baby and Jeffrey that TJ is uncomfortable. A midwife arrives to help and informs Kelly that she's lost the baby. Kelly sobs as TJ holds her.
Who killed Mark McCormack?
When forensics identifies the skull as Mark McCormack's, Keith suspects Mason of killing the man since he was the only one with a motive. (Mark married and raped Mason's true love, Mary, a few years ago.) Julia questions Mason about the weeks following Mary's death. He says he doesn't remember much but knows he would never forget murdering someone. Meanwhile, Keith receives an anonymous package full of incriminating evidence on Mason.
An Ultimatum
Lucky to be alive, Pamela goes to C.C. and tells him she's returning to England. C.C. tells her he isn't disappointed by her decision and writes her a check. Pamela takes it but tells him that she came to Santa Barbara for him -- not for his money. Sophia, who has become friendly with her ex, asks Pamela when she is leaving. The only way she'll go is if Jeffrey and Kelly go with her, Pamela smirks.
Suddenly, an irate Ben Clark barges in and pulls out a gun. He's going to get even with C.C. and Pamela, Ben rants. Police sirens blare in the background. Ben shoots a warning for them to stay away. C.C. tells Pamela that Ben is right -- they are responsible for Hal's death. Ben motions with his gun that Sophia can go, then forces his hostages down to the cellar.
Crisis at the Capwells
The Capwell residence is swarming with cops with Keith storms in and orders everyone out -- including family. The lieutenant ignores this and appoints Cruz in charge. Castillo moves to the door of the cellar and tries talking sense into Ben, who decides he'll free his hostages if the DA will put them in jail. Scott arrives with Heather, who is given permission to go down to the cellar and talk to Clark.
Mason is a hero
Deciding to take matters into his own hands, Mason works his way into the cellar through a secret passage. Meanwhile, Heather is trying to reason with Ben, who orders her to shut up and announces that time has run out. As he raises his gun, Mason dives for Ben and a struggle ensues. The gun goes off and Mason is hit. While C.C. goes after Ben, Cruz inches down the steps. Castillo manages to distract Ben and disarm him.
At the hospital, Pamela tells Julia how horrible the whole incident was. She's the cause of Ben's rage, Julia snaps. Scott tells the women that Mason will be fine, then tells Pamela he can't believe she's not in jail. When Pamela thanks Mason for saving her life, he says he didn't do it for her. Later, C.C. stops by and tells Mason he owes him his life. "I love you and I'm proud of you," C.C. says. He's waited his whole life to hear that, Mason says as he embraces his father.
Sophia dumps TJ
When Sophia runs into TJ at the office, she accuses him of stealing the five thousand dollars. TJ admits he took the money, but promises to pay her back. She thought she meant more to him than just another hustle, Sophia mutters. TJ tries to apologize but Sophia tells him it's over. He can stay on at Armonti until he's paid off the money, Sophia declares.
Revenge
Pamela tries lifting Kelly's spirits by telling her that she'll have plenty of children someday. Kelly informs Pamela that she has no intention of moving to England. Later, Pamela goes over to TJ at the Lair and says they have to talk. She's going to England and she wants to take Jeffrey with her, Pamela says as she hands TJ a check. "I want you to break up Jeffrey and Kelly's marriage," Pamela sneers.
Setup
Realizing that someone is setting him up to take the rap for Mark McCormack's murder, Mason asks for Cruz's help. Castillo decides to flush out the culprit, who attacks Cruz and dumps his body in a rowboat at the pier. Later, Cruz is lying face down in the sand when a man offers his help. "What's your name?" he asks. Cruz doesn't remember.
"Comings and Goings" section
Who's Coming:
Phyllis Frelich (Sister Sarah) - the actress won a Tony award for her performance in the Broadway play, Children of a Lesser God.
Frank Runyeon (Father Michael) - Runyeon is best remembered for his role as Steve Andropolous on "As the World Turns."
Tamlyn Tomita (Ming Li)
"Now Showing" section
The New York City Luncheon for "Days of Our Lives" Wally Kurth (Justin) and "Santa Barbara's" Nancy Grahn (Julia), which was originally scheduled for April 16, will now take place on June 18. For more information, call (201) 482-1251.
News Section, "Hollywood Happenings"
Hold the phone: Giving Jed Allan (C.C., Santa Barbara) a call at his dressing room is an experience even when he isn't there. I got a real charge out of his answering machine message, which went something like this: "Hello darlings. I'm so glad you called. I've missed you. Now please leave your phone number. Your name isn't important, but, oh, those phone numbers!" He called me back almost immediately and I told him I'd just been to a gathering of soap stars, where one of the conversations had been about his hair.
Jed's locks were darkened recently for those flashback scenes, which showed C.C. and Pamela (Marj Dusay) fighting with (and accidentally killing) Hal Clark, and the question was, is he more handsome that way or with his regular salt-and-pepper? The decision was the latter, and Jed got a big kick out of being discussed over lunch with lovely ladies. "I'm very flattered," he laughed. "You made my day."
"Trivia" section:
Q. What is the name of Keith and Gina's cat?
A. Laertes.
"Status Chart of Offscreen Happenings" section:
And the bride wore pink
Santa Barbara's Kristen Meadows (Tori) is set to marry director Bill Sheridan on July 16. The evening ceremony will take place in a garden with about 120 guests. Kristen will be wearing a rose-colored gown (off the shoulders, tight-fitting lace bodice), from the Diamond collection of designer Frank Masandrea. Meadows met her future husband while she was living in New York and appearing on "One Life to Live" as Mimi King. They were introduced by Arlene Dahl, who played Meadows' on-screen mother, Lucinda.
"Summer Preview"
The Major, Cain and Andrea's involvement in the Amerasian relocation program, in which they try to put children of the Vietnam War in touch with their American parents, will take a surprising turn. Cain will discover that he has a daughter, and she will become the center of a new teen story line. However, it will be revealed that the girl, Ming Li, is an impostor who was hired by the Major to come to town and wreak havoc in Cain's life. Watch for Ming Li to fall in love with Cain, causing further problems between him and Andrea.
There are fun things in store for Keith and Gina. The duo is slated to get embroiled in a dangerous partnership.
Mason and Julia will get involved in a new mystery. The plan is to take Mason on an adventure which will include a nun and a mission. Mason might find new romance with the nun. Mason may also be implicated in a murder. Meanwhile, Tori will take off on her own story.
The challenge with Cruz and Eden's story will be in keeping them interesting now that they are married. The producers want to keep them together and to focus on emotional issues before making them a team in business or something of that nature. The Castillos will want to have a child of their own. There are also plans to develop separate stories for each character so they don't lose their identities as individuals.
The trend will be to put the Capwells back in focus by reuniting C.C. and Sophia. TJ will find himself squarely in the center of Sophia's business and involved with Kelly, much to the chagrin of Jeffrey. Ted becomes involved with Margot, who has a child from a previous rape.
Although Robin Wright (Kelly) will be leaving the show, there are no plans to write Jeffrey (Ross Kettle) out. Also, Kelly will not be killed. The character will be saved for a possible recast in the future.
There will be a new character introduced for Scott (Vincent Irizarry). According to Jill Farren Phelps, SB's executive producer, "We want to break out that the character and play for Vincent Irizarry's strengths - which is more the active, physical kind of thing. He had a cerebral beginning and we'd like to activate him and play to his strengths. The new woman introduced for him will be used to turn his character around."
SB also had plans to do something involving the homeless, but nothing has been slated yet.
"Diva Blasts TV Bozos"
Diva agrees that Julia Wainwright is beautiful, but this attorney is quick to cut corners where intelligence is required.
Last but not least in our professionals' league of lemons is the wired Julia Wainwright. You know Julia. The Argument Waiting to Happen. The Attorney on the Edge of the Brink. Many years ago she flunked a Matrimonial Law class. I now have her exam before me.
Q. You want a baby but you don't have a husband or a boyfriend so you hire a colleague to sire a child for you. You kind of like him, but business is business. Then you learn that he is going to marry another woman. What should you do?
a. Get good pre-natal care and find work in another state.
b. Decide that you have a claim to stake, declare your love for this man and draw him to you by saying you are carrying his child!
c. Become his wife's best friend and bust up their marriage.
d. Stick to your business deal, shake hands and say good-bye once the service is performed.
e. a & d
Leave it to Julia, the public nuisance, to choose b. The correct answer is e.
Profile:
Santa Barbara's Chip Mayer: Serious Actor or Corner Philosopher?
Chip Mayer's got this thing about phrases. No interview with the Santa Barbara actor, it seems, is complete without hearing a number of them - the more descriptive and colorful the better. They don't always come tumbling out of this mouth in response to a question. In fact, most of the time, they seem to have a life of their own.
"You've got to be prepared if you want to fly with the eagles," exclaims Mayer as he settles onto a couch in his dressing room at the Santa Barbara studio. "If you go into the jungle without a bow and arrow, you're going to be eaten."
Mayer, who since September has portrayed gigolo-of- questionable-repute TJ Daniels, is cut from the same macho cloth as Miami Vice's Don Johnson (he even wears dark glasses indoors). The thirty-four-year-old actor proffers a rough hewn intellect and sensitivity. The latter is particularly evident as he describes his single parent status as "wearing a daily groove between the studio and my daughter's (Ashley, age five) school."
Mayer's sincerity toward his daughter is a quality that hasn't been seen much in TJ, who, from the moment he hit town as the ski bum/old flame of Laken Lockridge, has played havoc with the emotions of Sophia and C.C. Capwell (Judith McConnell and Jed Allan), as well as a growing list of significant others. TJ's ability to push all the wrong emotional buttons in Santa Barbara was particularly highlighted during the sequence when, after a heated argument with C.C., Sophia ended up once again in TJ's bed. C.C. stumbled upon the pair, grabbed a gun and opened fire on TJ, who escaped out an open window.
"Yeah, I guess you could say that TJ is kind of like Santa Barbara's emotional Peace Corps," chuckles Mayer at his character's attraction to older women. "At this point he's seen as just a gigolo and not much more. I'm the new blood on the show and my story line is pretty far down in terms of importance. Hopefully, down the line, we will get some insight into the motivation of the character, what his background is and why he does what he does. There have been some hints of things in his dialogue with Sophia that indicate he might have been hurt by his mother when he was young, which would explain his thing for older women." The actor concedes that much of the viewers' enchantment with TJ rests on his physical appearance. "Which is fine up to a point," he says, "but I don't want to just get squeals for TJ's good looks. Male model-types are ultimately a dime a dozen. A character will only be successful if they like him enough to want to hang out with him or if he touches their soul."
Chip Mayer was born and raised in New York, the oldest of seven children. He describes his early years in larger-than-life terms. "I came out of a Norman Rockwell print," contents Mayer. "I played a lot of sports, got along with my brothers and sisters, and basically had a life contrary to what you normally hear from actors. I truly believed I was too normal to be an actor."
Acting was a lingering notion in the back of Mayer's mind, but reality pointed him in the direction of Colgate University and a degree in business. After graduation, he took a suit-and-tie job in a downtown Manhattan office building, but "it eventually got to the point where I figured if I didn't give acting a shot, I would kick myself forever."
Mayer began studying acting in his spare time. Auditions, held primarily during business hours, called for a bit of ingenuity. "I was pretty poor in those days," remembers Mayer, "and auditions were always being held twenty or so blocks from where I worked, which would have meant cab fare I couldn't afford. So, on the days I had auditions, I would bring my track suit to the office and hide it in the men's room. During my lunch hour, I would change into the tracksuit, run to the audition, con my way to the front of the line, and then run back to my office and change back into my suit. After a few months of this, my bosses got hip to what was going on and I was given the ultimatum to either fish or cut bait." Deciding on the latter, Mayer plunged into acting.
Along the way, Mayer met and married actress Teri ("We Got It Made") Copley, gathered the grand sum of four hundred dollars in the bank, and was well into the role of struggling actor when a contract dispute on the television series, "The Dukes of Hazard," led to Mayer's big break. "My manager at the time knew about the stars (John Schneider and Tom Wopat) walking out and that Warner Brothers was going to go with replacements for the season." Mayer did twenty episodes before the show's stars returned to the fold. He looks back on his Dukes stint with mixed feelings. "Obviously, I was not doing Olivier on that show," smirks Mayer, "but my wife was three months pregnant at the time and that was definitely a way to pay the bills. Dukes is not necessarily something I would want to put on my audition reel, but the show was fun to do, and it gave me major-league exposure."
As did his portrayal of Pete Bozack on the short-lived nighttime soap, "Glitter." "I knew that the show was in trouble when everybody was saying it would be the hit of the season even before the first episode aired," laughs Mayer. "But there are ninety thousand variables connected to acting. It's luck hitting the right part. It's having the talent to bring the part off."
Mayer was called in to audition for a part on Santa Barbara last year. "Originally I tested for the part of Dr. Scott Clark but the producers did not see me as a doctor and so I went on my way. Two weeks later, I got a call asking me to come in and read for this new character called TJ. It didn't turn out to be much of a role at first, but it's beginning to develop." Also developing during this period was his relationship with his daughter. Early in his SB tenure, Ashley was as familiar a sight on the set as her father. With Ashley now in school, Mayer often does a juggling act between career and fatherhood. "Obviously, it's a little more hectic," explains Mayer, "but the payoff, emotionally, for both of us has been worth it. You take on a big responsibility when you bring a child into the world. You owe it everything."
Mayer is less forthcoming on the failure of his two marriages - to the aforementioned Copley, and to "The Young And The Restless"'s Eileen Davidson (Ashley). "It's not something I feel I have to talk about," asserts the actor. "It's not like I'm jaded or cynical about romance or anything like that. Sure we make a living by dropping our pants in public and that's OK. I've just reached a point in my life where I've become protective about my personal life. I owe the audience my performance and my talent, and I feel I owe them a certain amount in return for their feelings toward me. I thank them for that but I don't feel I owe them the inside story on my personal relationships."
Mayer hopes to be a part of Santa Barbara for a while, but realizes the reality of soap life. His buddy Rick Edwards (ex-Jake) fell victim to the show's change of direction. "I don't think I'd still want to be doing Santa Barbara ten years from now," concedes Mayer. "It's great right now but I've got other hopes and dreams."
Dreams that send Chip Mayer in search of another colorful and descriptive phrase: "It's simple. I just want to touch the sun."