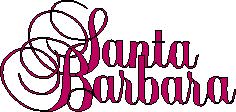 This is from the June 28, 1988 issue of Soap Opera Digest.
Q. On Santa Barbara, whatever happened to Christie, Steve, their mother Theda, and Mark McCormack?
A. Christie and her mom left town. Steve was killed by Christie after he raped her. Mark presumably left town after Mary's death, but it has since been revealed that he was murdered.
Q. On Santa Barbara, who was the Carnation Killer and what happened during that story line?
A. Peter Flint, Kelly's ex-fiancee, became known as the Carnation Killer when, after being rejected by Kelly, he went crazy and killed several blonde women, thinking they were Kelly. He left a white carnation next to their dead bodies.
Q. What was your most memorable summer and why?
Scott Jaeck, Cain Garver, Santa Barbara
It was the summer of '77. I had just graduated from college and I went with my two friends, Scott Campbell and Douglas Udell, to Europe for six months. It was a wild trip. Among the many things that happened to us was the time we were in London at a youth hostel and everything that I owned, except the clothes I was wearing that day, had been stolen - including my passport. It took about three days for Scott and Douglas to convince the embassy that I was an American citizen so I could leave the country. I learned that it's real hard to convince people when you don't have one iota of identification. Another adventure was when we were in Norway and we were climbing a mountain. Scott ended up falling and getting hurt - and he was the only one of the three of us who spoke the language. Eventually, Doug and I were able to get people to understand that we needed help.
Very Hot Shots!
(picture of Marcy Walker with hair pulled back and sunglasses on (and really not that great of a picture))
Marcy Walker (Eden Capwell Castillo, Santa Barbara) "What can I say? Not only is she smart, funny, beautiful, sexy and talented, she knows what she wants and is willing to work her butt off to get it. Other than that, the girl has very little going for her."
- A Martinez (Cruz Castillo, Santa Barbara)
Story Synopsis
Andrea's attempt to unite American vets with the children they fathered in Vietnam leads to a shocking relevation: Soo Li, Cain's lover during the war, had a daughter named Ming Li - which means Cain could be the girl's father.
Andrea accompanies Cain to Bangkok to find Ming Li. They end up at the Lizard Lounge, a sleazy strip joint in a dangerous part of the city. Cain's worst fears are confirmed when a stripper called Butterfly appears on stage and begins her routine. It's Ming Li. After the show, Cain introduces himself but Ming Li refuses to have anything to do with him.
Undaunted, Cain goes to the American embassy and tries to get Ming Li a passport. When his request is denied, Andrea suggests they call the Major to see if he can pull some strings. Unbeknownst to Andrea and Cain, the Major is in Bangkok keeping tabs on them. It seems the Major was in love with Soo Li too, and believes that Ming Li could be his - not Cain's - daughter.
Gina's desire to get rich quick leads to her becoming a contestant on "The Wheel of Fortune." Gina is so nervous that when Pat Sajak introduces her, she passes out. However, Gina recovers and wins big.
Determined to clear himself of the murder of Mark McCormack, and hopefully find Cruz in the process, Mason begins his own investigation into who is framing him. He ends up at a mission in Goleta where Mary once worked. It seems someone inside the church knows who killed McCormick.
A man named Oscar tells Cruz that he's landed on an island five hundred miles off the California coast - trapped in the Pacific's version of the Bermuda Triangle. Cruz tries to escape and is knocked out. When he regains consciousness, Castillo finds himself in shackles. A young woman named Sylvia tends to his wound.
Sylvia tells Cruz that there have been other castaways before Cruz. Some have been allowed to leave; others have been used by her father, Dr. Willoughby, the man who owns the island. Before Cruz can learn what she means, Dr. Willoughby enters the room and injects him with a hypodermic. Later, Sylvia enters with food and asks Cruz about Eden, whose name he called out in his delirium. Cruz doesn't remember anything and asks Sylvia to help him escape. Sylvia agrees but the two are discovered by Willoughby, who tells his daughter that she will be punished, too. Meanwhile, Oscar tries to make it to the other side of the island. Willoughby grabs his rifle and takes off after him.
After the authorities ascertain that Cruz was dumped in a boat and drifted out to sea, Eden sets sail in search of her beloved. She ends up at the island and enters a shack. Someone staggers in. It's Oscar. He takes one step forward and crumples to the floor, blood seeping from a wound in his back. Eden shows him a snapshot of Cruz. Oscar tells her that he's upstairs and that he's in mortal danger, then dies. Eden finds Cruz and calls to him. He goes over to the window and asks her who she is.
After obtaining a passport for Ming Li, Cain brings his daughter to Santa Barbara. Ming Li feels uneasy about living in the houseboat with Cain and Andrea. Cain thinks this will give them the chance to get to know one another. Andrea feels like a third wheel and moves out.
Conversation between father and daughter is strained. Ming Li reveals her bitterness by calling herself the daughter of a whore. An outraged Cain defends Soo Li's virtue. Ming Li refuses to debate the issue and rushes out. Cain begins to question whether it was wise to bring the girl to America.
Meanwhile, Ming Li is at the Orient Express, raising a stink since the bartender refuses to serve her. The Major offers his assistance and ends up inviting her to his house. While Ming Li admires a statue, the Major considers telling her that he's her father, but decides against it. Later, back at the boat, Ming Li feels like she's being held prisoner. Cain asks her to help him be a better father. He'll desert her as all the others have, the girl rants.
Willoughby tells Cruz that the game starts tomorrow night. Cruz calls Willoughby a coward for hunting humans with guns and giving them nothing with which to defend themselves. A crazed Willoughby admits he's excited about the thought of hunting and killing Cruz. Meanwhile, Eden has been discovered and tries to hide the fact that she's there to rescue Cruz. However, Willoughby finds her talking to Cruz and puts them both in shackles. They will have the whole night to orchestrate their escape, Willoughby sneers.
The next day, Cruz and Eden are like two hunted animals running for their lives. Eventually, they make it to the cave on the other side of the island. Cruz's feelings for Eden are strong despite his memory loss. They kiss, which leads to lovemaking. Meanwhile, CC and Sophia learn what Eden is up to and arrive on the island. CC's attempts to help fail.
Willoughby enters the cave. Cruz, who's regained his memory, mocks Willoughby, calling him a coward. Suddenly, Sylvia arrives with a rifle and warns her father to give up. He refuses and she fires a warning shot. Willoughby surrenders.
Back in Santa Barbara, Cruz learns that Tori has been offered a role in a movie which would take her on location to Hollywood. Upset, Cruz confronts Tori, who warns him that if he tries to interfere, he'll never see Chip again.
Comings and Goings
Who's Coming:
Deborah Pollack (Sister Agatha)
Who's Going:
Santa Barbara: Robin Wright (Kelly Capwell Conrad). Left to pursue her film career.
Famous Fans
Nancy Culp, actress. Fan of Santa Barbara.
Perhaps best remembered for her role as Miss Jane Hathaway on The Beverly Hillbillies, Nancy is a major fan of Santa Barbara.
Q. How long have you been watching?
A. I've been watching since the beginning ... isn't it ridiculous? I knew Dame Judith Anderson (ex-Minx) - not intimately - we had similar phone numbers and people would call me up by accident asking for her. I became curious when I heard she was on a new soap opera, so I tuned in and just fell in love with the darn thing.
Q. Why do you watch?
A. I became infatuated with Lane Davies (Mason). I wrote him a letter and he called me up when he got it. We became fast friends - he even convinced me to do the Shakespeare festival with him last summer. I would take time out to watch the show because Lane, and the whole cast, was just exceptional. I was enthralled. I never watched a soap before. I had read (screen-tested) for one, but was so bad it was embarrassing. The stories on Santa Barbara are fascinating. I marvel at how they go from one situation to another, full of menace and threat and divisiveness.
Q. How often do you watch?
A. Every day. I am a faithful and devoted follower. I was a journalism major and always wanted to write long before I became an actress. I've written some treatments which I've sent over to the show. I've also written a satirical poem about it.
Q. Favorite character?
A. Mason. I love his sardonic wit. But I'm disappointed with the direction his character has taken. They've backed him into a corner. They haven't done enough with him lately; he's just bouncing around the same old scenes. The original Mason was so witty and clever. I also love Gina and Keith - they're just outrageous. And, Cruz and Eden - they just capture you, they seem so endlessly devoted to each other. I hope they don't break them up. One of my favorite characters was Louise Sorel (ex-Augusta). She's so classy and I loved her sardonic New York wit. Her dialogue was marvelous. Changes in the cast happen too frequently, though I suppose that's to be expected in soaps. But why do the same actors go from one soap to another? They should cast some new faces ... or some new, old faces - like mine.
Who Will Win The Emmys?
Drama Series:
Santa Barbara - unconventional, unpredictable, and an industry favorite.
(but SOD chose All My Children)
Lead Actress:
Marcy Walker - (Eden Capwell Castillo). Very believable in often far-fetched situations. Refreshing.
(they chose Elizabeth Hubbard, ATWT)
Lead Actor:
A Martinez - (Cruz Castillo). Sensitivity with depth. Second nomination. A good choice.
(SOD chose Robert Gentry, AMC)
Supporting Actress:
Robin Mattson - (Gina DeMott Capwell). Delightful, energetic, a spitfire. Very deserving.
(SOD chose Robin Mattson)
Supporting Actor:
Justin Deas - (Keith Timmons). Loves slapstick. Too much of a good thing?
Nicolas Coster - (Lionel Lockridge). Surprise nominee. Definitely backburner.
(they chose Mark LaMura, AMC)
Ingenue:
Robin Wright (Kelly Capwell Conrad). Beautiful, but had a lackluster year.
(they chose Julianne Moore, ATWT)
Younger Leading Man:
Ross Kettle (Jeffrey Conrad). Likable, but a confusing choice.
(SOD chose Scott DeFrietas, ATWT)
Writing Team:
Santa Barbara's nominated, but they chose All My Children.
Ruthless People: Soaps Nastiest Couples
Keith Timmons and Gina Capwell, Santa Barbara
True soulmates, Keith and Gina can be themselves when they're together without fear of ridicule. Bizarre, illegal, frequently raunchy behavior is encouraged. Since they think that the world in general - and the Capwells in particular - have done them wrong, this pair feel that any action they take against SB's first family is justified. Who else would plan to disrupt Cruz and Eden's wedding and wind up in a mud puddle? Though their plans never seem to pan out, Keith and Gina are rarely discouraged. They're nasty, but so much fun.
Notorious Playboys
TJ Daniels, Santa Barbara.
Conquests: Countless older women, Laken Lockridge, Olivia, Sophia Capwell.
Approach: Smooth and confident
The Woman Who Got Away: Sophia Capwell, Former gigolo TJ Daniels was "kept" by many wealthy women in return for sex, but when he got involved with Sophia Capwell it was for free.