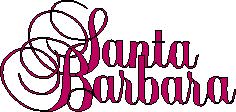 From the Nov. 15, 1988 issue of Soap Opera Digest.
Q. Who is the actress that replaced Robin Wright as Kelly on Santa Barbara? She looks and acts so much like the old Kelly.
A. Actress Kimberly McArthur has replaced Robin Wright in the role of Kelly Capwell Conrad on SB. Here are some facts on her:
Hometown: Fort Worth, Texas
Experience: feature film Don't Let Go; miniseries Elvis and Me; guest appearances on several nighttime episodics including Magnum PI and Highway to Heaven; toured with the Playboy Production of Girls of Rock 'n Roll; appeared in the music video of Mel Tillis's "A Cowboy Dream;" can currently be seen in several TV commercials (including AT&T, Merrill Lynch and Kleenex).
Letters:
Defending the Dobsons
I was pleased to read Michael Logan's article about Santa Barbara's creators, Bridget and Jerry Dobson, in the 9/20 issue. Other than the initial reporting of their contract dispute with New World Television, and the lawsuit that has ensued, there's been a dearth of information on the subject for those of us who are fans of both the show and its creators. I was therefore pleased to see Soap Opera Digest not only cover the controversy, but feature a viewpoint that I believe will ultimately prevail in the courtroom.
Touching Tori Tale
Recently while watching Santa Barbara, I saw one of the most touching scenes I've ever witnessed on a soap - the one in which Tori is forced to give Chip back to Cruz and Eden because she realizes she is not stable enough to be a good mother to him. I felt as though I was Tori, and I knew how hard it was for her. I hope SB continues to have compelling moments such as this one. It was a scene that touched the heart, mind and soul.
Facts are Fun
Did you know that Jeffrey and Kelly's wedding on Santa Barbara cost the show $250,000?
Roundup
Q. What's the silliest plot your show has used?
A. Marcy Walker: It's a tossup between the time Amy Perkins went to the doctor to have her molars removed and ended up getting impregnated with the sperm of the King of New Stalland, or when Amy gave birth in a barn, lying in the hay next to a manger ... and afterward, the camera panned to a shining star in the sky."
Synopsis
Michael rescues Julia from the smoke-filled evidence room. Timmons realizes he is losing in the face of the mounting evidence against him - but doesn't tell Gina.
Feeling he has no other choice, Keith decides to hide underground for a while. He creates a romantic evening for Gina and himself ... a night she will never forget. She wakes up and finds a note that Keith has left. She is devastated. Brandon tries to calm Gina down by telling her that Dad will be back.
In an effort to get Sonny (aka Mason) and CC close, Gina arranges for them to get locked in the Capwell wine cellar. While waiting to be rescued, the two men are slowly getting drunk and laughing away. CC tells Mason he would give up his life to save Mason's. Sonny is touched and begins to confess. CC laughs when Sonny tells him that he's not his son. Sonny wonders why it feels so right to call this man "Dad."
Meanwhile, Gina is unable to get the men out of the cellar since she is being questioned by the FBI as to Keith's whereabouts. She sends Brandon over to the Capwells for a bottle of wine. CC and Sonny are close to death when Brandon, against Sophia's orders, opens the door to the wine cellar. Sonny comes out slowly and groggy and drags CC. They are closer than ever. Later, Sonny confronts Gina about who he really is. If she can't show him the real Mason ... he doesn't want to think of the alternative, Sonny says.
Eden is plagued by constant phone calls from the rapist. He has been able to get back into the house using the alarm code and cause considerable damage. Eden and Cruz stay at Julia's beach house for the night - but Eden is determined to return and fight. Meanwhile, Detective Boswell thinks he has a lead. Cruz follows it up and has the guy brought in. However, at the same time, the rapist phones Eden. She stays on the line in an effort to trace the call but when she realizes that it is a recording of his voice, it is too late. She hears glass shattering upstairs and realizes that he's in the house ...
Kelly brings Jeffrey home from the hospital. Though he is unable to move or speak, he is mentally alert. Kelly is shocked to find that a nurse has been hired to take care of her husband. The nurse lies and tells the Conrads that she was employed by Pamela. Jeffrey looks on in horror, knowing that TJ hired the woman. Later, while Kelly is out, TJ stops by. The nurse tells Daniels that it doesn't look like Jeffrey will ever speak again. TJ is pleased at how everything is turning out.
The party at the Orient Express is winding down. Zack thanks Heather for an amazing evening. Heather admits she actually enjoyed herself. She had forgotten how much fun they used to have. Zack feels hopeful that the spark between them has been rekindled. Heather misses Scott and decides to give him a call. It's two-thirty in the morning in London, but there's no answer in Clark's room ...
As Michael shows Julia his plans for the new chapel, the sexual tension between them is undeniable. Heather walks in and apologizes for interrupting. Later, she visits Julia and tells her to stay away from her brother. Meanwhile, Michael sees the Bishop and takes off his collar. He doesn't feel right about his desire for Julia, a conflicted Michael says. The Bishop tells Michael to put his collar back on. The world needs priests like him.
Brandon puts up a sign to rent rooms. Bunny, a mobster, comes by and rents them all. Gina is suspicious, but with Keith gone, she needs the money.
Gina takes Sonny to a motel. He looks in the mirror and sees Mason. The personalities battle it out. Sonny tells Mason that only one man will walk out of the room. Mason strikes a deal: Sonny can emerge, but when Julia is around Mason will be the dominant personality. Sonny agrees but later realizes that if he gets married to Julia, Mason will be present most of the time. Gina waits all night until an agreement is reached. Back at the Timmonses' the next morning, Mason and Julia are shocked to find Julia waiting for them. Mason makes an excuse, but Julia is very suspicious - especially when he drops a motel room key.
Eden continues to be plagued by the phone calls from the rapist. One of the calls has been traced to a warehouse, where they discover a shrine dedicated to Eden. Meanwhile, Boswell and Lydia team up. She wants to get first-hand information from him on the rape case. She is also doing some investigative work on Cain. They both think he is a dangerous man.
The major watches playbacks of the news concerning the rape case. As he takes notes, Ted walks in and wonders what he is doing. The major won't say. Ted says he can't make their meeting in Ojai with the investors ... he has a family meeting. The major is furious with Capwell's sense of priorities.
Eden and Cruz make the announcement to the family that Eden is pregnant. Everyone is quietly wondering if the rapist could be the father.
Late Breaking News
Murder on SB: The next victim of the rapist will be a major character, who will be killed. Eden and Cruz will have to face the possibility that Cain could be the vicious attacker.
Cold Feet: Sonny will get increasingly antsy as Mason and Julia's wedding day approaches. (After speculation that she wouldn't re-sign her contract, Nancy Grahn, who plays Julia, has decided to stay with the show.)
Comings and Goings:
Who's Coming:
Joe Marinelli (Bunny)
Louise Sorel (Augusta Lockridge): the actress who created the role in 1984 returns for a limited run.
Who's Going:
Justin Deas (Keith Timmons): the actor landed a role in the new prime-time series Studio 5-B.
Scott Jaeck (Cain Garver): the actor chose not to renew his contract.
Ross Kettle (Jeffrey Conrad): the show decided to write the character out.
The Young and the Restless:
Eileen Davidson (Ashley Abbott): it was the actress's decision to leave the show at this time and pursue other acting opportunities.
Trivia
Q. Who are Brandon Capwell's (SB) biological parents?
A. Santana Andrade and Channing Capwell, Jr., are Brandon's biological parents.
Star Haunts: Thanksgiving
Marcy Walker: Marcy is moving into a new home just in time for the holidays. "It's my first Thanksgiving since my brothers were nine and ten that I'm going to be cooking for them," she says. "I hope to have my walls up and my roof on and I hope that I can cook on my new stove."
Behind the Scene
Santa Barbara's Rape Scene
Very often, we commend Santa Barbara for being one of the hippest, wittiest and most amusing soaps on the air. But it's not all fun and games. Recently, SB aired a scene in which Eden Castillo was brutally raped. In fact, the scene was so grisly, so realistically depicted, it left viewers numb. Taping the episode was not either for either Marcy Walker, who portrays Eden, or anyone else involved. Director Rob Schiller shares his thoughts:
Planning the Scene: "I knew this would be one of those shows that doesn't come along very often. I have a young child at home, and I wanted to make sure I had the attention I needed to plan the scene, so I sequestered myself in a motel room the night before to go over the scripts and come to terms with what we were about to do. I had discussions by phone with (Executive Producer) Jill Farren Phelps. We talked about how graphic it should or should not be. Originally, the script had more violence in it, but we made some cuts. We determined what the audience could bear, and what we could bear."
Shooting the Scene: "The rape scene had a huge impact on all of us. I don't feel it was too graphic because rape is a violent crime - not a sexual crime - and it's important to display some aspect of that. To delete the violence and make the scene pristine would be an injustice to anyone who is a victim of this crime. I applaud the producers for allowing me to get this episode aired as conceived, for not editing out all the violence, and for creating such an impact on viewers - for better or worse. I think the result made viewers uncomfortable but compelled to watch. Jill pretty much left things up to me. Her main concern was that she didn't want to see anything too graphic. So, we shot the action from a high, wide angle - with closeups of Marcy after she was brutalized. We placed the cameras in a wide circle around Marcy. The effect was confusing and disorienting, and it also masked some of the violence."
Reaction: "We started shooting at eight-thirty in the morning and we wrapped about four o'clock in the afternoon. We couldn't rush Marcy through this scene. We knew we were dealing with a delicate situation, plus Marcy is pregnant. We used a double for the more violent stunts - but for all the emotional stuff, Marcy was right there. We didn't feel it was a show that should be rushed. We needed to keep Marcy emotionally intact.
"Marcy is such a professional. She was always concerned about how the total view of the rape was coming across - not just her performance. I commend this show and Marcy for pulling off a topic that is so delicate and doing it with great aplomb and dignity. Jill had some reservations about having her lead character tarnished in this manner - but my feeling is that even though viewers get angry, that response is better than no response. The whole point is to make people angry, and to get people talking. We don't often get a chance to do that on soaps."
Classic Lines
Father Michael: "What's it like living a life of senseless immortality?"
Keith: "The greatest."
Keith: "I have some very good news for you."
Julia: "You only have 24 hours to live?"
Ted: "Isn't it great that Mason's back home?"
CC: "Yes it is. Why, what'd he do now?"
How Violent is Your Soap?
(rating the different soaps on a scale of 1-10)
Santa Barbara: 7
Mental cruelty governs this show, which deliberately chooses far-out and unusual kinds of brutality to separate its lovers. Happiness is constantly interrupted by rape, torture, explosions, bomb blasts, fires, imprisonment, mind and personality-altering drugs, systematic revenge by thwarted lovers, and death - real and imagined. When SB writes itself into a corner, their way out is to kill the offending character in a bizarre manner. Out of such a need the Carnation Killer was born, the SB earthquake occurred, and beloved Mary McCormack was brained by the letter C from the collapsing sign above the Capwell Hotel. Daily violence is the rule. Whether its Hayley or Eden getting raped or Mason being kidnapped, you can be sure someone is going to be in danger whenever you tune in. In SB's favor, not everyone is in trouble at the same time, usually.
Commentary: Santa Barbara Attacks General Hospital
A recent SB episode reveals how the daytime medium - and GH in particular - have not portrayed rape responsibly.
On Oct. 5, 1979, General Hospital did a rape story line that has since gone down as a controversial classic among soap plots. It involved the characters of Luke and Laura, and it was termed a "seduction" rape, an oxymoron if there ever was one, since seduction and rape have nothing to do with each other. But, because the characters fell in love and eventually married, GH had to call it something. This, understandably, enraged many viewers: rape is a violent - not a sexual - act. The actors who portrayed Luke and Laura, Tony Geary and Genie Francis, found themselves in the position of having to defend their characters - in a controversy that still incites anger in people today.
Santa Barbara, a soap known for taking risks, presented viewers with a realistic rape story line when the character of Eden (played by Marcy Walker) was brutally attacked. In the aftermath, she appeared on a talk show to describe the horror of what she had been through. On the show with her were two soap stars, "Link" and "Laurie," who had acted out a rape scene on General Clinic. An appalled Eden told these actors that they didn't have any idea what it was really like to be raped. The irony of this statement was not lost on us, nor was the thinly veiled reference to GH's rape story. Here's what the three people involved with this episode had to say:
Susan Lee, Vice President, Daytime Drama, NBC:
"The original idea came from Brian Frons (vice president of daytime programming) during a story line meeting. We wanted Eden to appear on a talk show - to go out and say to the world, "Let's not let this guy get away with what he did to me ... if you're a woman who has been a victim of rape, go out and do something about it." We tried to get Gary Collins (host of Hour Magazine) but when we couldn't, Brian Frons suggested that we create our own talk show.
"Of course, we understand the irony of having Eden, a soap opera character, say to two other soap opera actors that they don't know what it's really like to be raped. We tried to compensate for that by having Marcy Walker appear as herself at the end of the show, and basically say that, yes, she's an actress portraying a rape victim, but we don't take the issue of rape lightly so don't think any less of us.
"We haven't had any backlash from anyone connected with GH and the fact that SB is GH's competitor certainly had something to do with the fact that we did it."
Frank Salisbury, SB scribe who wrote the episode:
"I wrote (GH's) Luke and Laura story in the late seventies. The purpose of (SB's) episode was to tell viewers that rape is an act of violence, and that there's no such thing as a seduction rape. That message was implicit. However, I didn't write the script with any great social conscience. It was my chance to write something serious - but also to have some fun with it; to write a parody of something that I did years ago ... to be a little outrageous. It wasn't written out of some kind of revenge. I admit it was kind of a chancy thing to do. I guess we'll never work for (former GH Executive Producer) Gloria Monty again."
Marcy Walker, Eden Castillo:
"I remember reading the script and the first thing I thought was, 'I hope that the irony of what we're about to do doesn't make fun of soap actors.' I'm not an authority on this type of violent crime and the amount of people who responded is unbelievable. A friend that I have known for five and a half years came out and told me the same thing happened to her four years ago. This is a positive reaction. It makes people aware.
"I watched the Luke and Laura story (on GH) years ago and I believe we've excelled in society since then in terms of realizing that rape is a violent - not sexual - act. The way GH portrayed Laura's rape was like that old adage, 'She says no buy she really means yes.' I've seen other shows deal with rape, too, but never before have they focused on the violence. I feel Santa Barbara did a very realistic portrayal. We didn't take it lightly and we didn't say, 'Oh, the audience wouldn't be able to take it.' It was irresponsible for GH to ever portray rape as a seduction. Still, I don't think our social conscience was as aware back then as it is now. I think (in SB's episode) we were basically saying that presenting rape in an irresponsible way is not OK. Yes, making a reference to the GH story was somewhat risky, but leave it to SB to climb out on a limb. And thank God we do, because we grab the brass ring when it comes to hitting things right on the head. We forced people to look at rape for what it really is, and that has value in it because for every nine people who say that, 'Oh, Luke and Laura were so in love so it was OK,' there's that one person who says, 'He raped her.' A few years ago, abused women wouldn't come forward and talk about what happened to them. I think doing a show like ours helps put a stop to that way of thinking."
TV's Sexiest Men
Picture of A Martinez riding on a horse:
A Martinez: "A is the most brilliant, dedicated and talented man I know. I admire him, I respect him, and I love him with all my heart." - Marcy Walker.