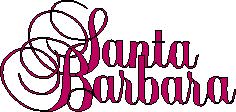 This is from the October 29, 1992 issue of Soap Opera Digest.
Freaky Fashions
Heavenly Haute Couture
"I dressed as a nun. It was the costume I wore in the film BERNADETTE. I also wore it to a party, and as I was driving home in my little mustang convertible, I pulled up to this stoplight. I was still wearing the habit, with the veil and all of that. Some people pulled up next to my car, looked at me, and just started laughing. Then, as I pulled into the gas station, the attendant was pretty shocked when I got out of the car, gave him the money and started pumping gas in my nun's outfit." Sydney Penney (BJ)
Late Breaking News:
Mason and Julia lives are shaken when they meet SB's newest resident. Wedding bells may ring for BJ and Warren, and for Ted and Lilly. When Andie's gratitude turns into affection, she sees Reese in a different light.
Will SB move to ABC?
Normally, a cancellation announcement is the last word the press hears about a fading TV show, but not in SB's case. NBC had barely finished acknowledging that the Emmy-rich (but ratings poor) soap would end its 8- 1/2 year run on Jan 15, when reports surface that SB might be moving to CAPITAL CITIES/ABC, INC. Neither ABC nor SB's owners would confirm such negotiations, but James McNamara, president of New World Entertainment, told USA Today, in general terms, that "the phones are burning" and "discussions are underway" to keep the show alive.
The ABC rumors, no matter how wild at this point, have definitely been making the round backstage at SB. Some cast members told us that they'd heard about "very preliminary discussions" between New World and ABC, but wondered how ABC could find room for SB on its already full-to-capacity daytime schedule unless other programs were canceled. Meanwhile, a highly place source at ABC claims that the rumors are about as far from reality as Brooklyn is from Beirut. Apparently, in its fierce effect to save the show, New World was testing the waters at several networks, including Lifetime Cable Channel. But so far, a deal with ABC "just isn't happening."
Late Breaking News - VCR alert
Friday, November 6, is a must-see day on SB. In an attempt to work things out, Rafe forces Lilly's hand regarding her relationship with Ted. Will his tactic work? And sparks fly in the courtroom when Dolly makes a shocking revelation on the witness stand. How will this testimony affect the prosecution?
And now a word from our sponsors:
Seriously, there is an add for Family Feud for the week of Nov 9th. During that week General Hospital, B&B and SB (Kim Zimmer, Nicholas Coster, Robin Mattson, and Charles Grant) compete for their favorite charities.
Some of Today's Stars Fizzled in Their Daytime Debuts
Robert Fontaine: BEFORE - The Role: Frankie Greco, GH, The Look: Confused Third World refugee. The Missing Ingredient: Action. After he trailed his beautiful older sister, Carla, to Port Charles from war-torn Santo Moro, young Frankie didn't have much to do. But at least he could support sis through all the Santo Moro coup attempts and assassination plots, not to mention her romance with Felicia-reject Colton Shore.
AFTER - The Role: Rafe Castillo, SB. The Look: Earnest, starcrossed lover with promising career in the fashion industry. The Secret of his Success: As Cruz Castillo's long-lost younger brother, Rafe automatically had built-in hero status when he came to town. His efforts to make an honest woman out sneaky, dishonest Lisa struck a chord with viewers, and he certainly lights up Lilly's life. Will another show snap him up when SB ends in January?
Synopses Section
o Ted's announcement that he's moving back into the mansion doesn't please CC.
o Warren impassioned plea for BJ ends up hurting her.
o Who is the "towel boy" at the Capwell mansion?
o What news completely shatters Mason and Julia's lives.
o Andie's story about the Armonti break-in gains support.
o What does Ted see as the only way to wrap things up with Angela?
Roundup - If you were your character, how would you hang on to your man?
Bridgette Wilson (Lisa, SB) - "For starters, I wouldn't handle things the way Lisa did with Rafe up to this point. However, If I were in a situation where I was losing someone I cared about, I would suggest we go out together and discuss things openly - preferably at Humphrey Yogart, over a banana chocolate yogurt with fresh berries.
Sound Off - Letter to SOD
Where's Their Loyalty?
I'm outraged that no one tried to stand up for SB. For months, I've been reading about the rumors involving SB's cancellation, and It's shocked that its fans didn't attempt to save it. True, there are many changes in the past couple of years, and not all of them were good. However, the good outweighed the bad. The pairing of BJ and Warren did wonders for SB. Perhaps if given a chance, they could have filled the void left by Cruz and Eden. Also, strong performances from Kim Zimmer, Nina Aversen, Nicolas Coster and Robin Mattson proved that the show still had a lot to offer. SB fans should have stuck behind their show and helped to give it a chance to prove itself. Signed S.T.
Sound Off - SOD letters
Most Popular: DOOL took top honors, followed by SB, which came in a surprise second. AMC finished third.
Hottest Topic: SB viewers were dismayed that their show has been yanked off the air.