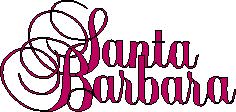 from the 9/20/88 issue of Soap Opera Digest
Ask Us
Q. In your 5/31 issue, the feature on Cruz and Eden's wedding on Santa Barbara recalled all the problems that had kept the couple apart - including blindness. I don't recall who was blind or the circumstances behind it. Can you explain?
A. After Eleanor Norris, aka Elena Nikolas, threw Eden off the cliff and left her for dead, an injured Eden wandered through the snowy mountains for days and was temporarily blinded by the bright sun reflecting off the snow. Then Cain found her and helped nurse her back to health in his cabin.
Q. Who were Mary and Mark McCormack on Santa Barbara?
A. Mary Duvall was a nun who fell in love with Mason Capwell and left the church for him. Before the two had made a commitment to each other, Mary ran into her old high school sweetheart, Mark McCormack, and they wed. But Mary couldn't deny her feelings for Mason and decided to divorce Mark for Mason. Mark flipped out and raped Mary. They argued on the roof of the Capwell Hotel about getting a divorce, and Mary was killed when the letter "C" (in the Capwell Hotel sign) fell on her. It was presumed that Mark left town. But now it turns out that he was killed.
Address for "The Change in Me is You" and other love themes by James Patrick Dunne is Puppytracks, 6513 Lankershim Blvd., North Hollywood, CA 91606. Send %$12.95 plus $3 in shipping and handling. Cassettes only. Credit card orders (818) 761-6606. (Typist's note: remember, this was in 1988 - may not still be available.)
Happy Birthday to You:
A Martinez (Cruz Castillo) - September 27
Letters
Although I was never a regular Santa Barbara viewer, I knew a little about it from the "soap chatter" at school and work. It sounded interesting, but I always felt I didn't have time for another hour of soaps each day. That is, until I read in your "Comings and Goings" column that Frank Runyeon (ex-Steve, As the World Turns) had joined the cast as Father Michael. I tuned in the very next day and haven't missed an episode yet. I feel SB should know that Frank's talent inspired me to make extra time in my schedule. He's not only an incredible actor, but he also has a true passion for the art.
--P.L.H., Beaumont, TX
Roundup
Who are the Hottest Stars in Daytime?
Kristen Meadows (Tori Capwell, SB)
"A Martinez (Cruz, SB) because he's sexy, strong and vulnerable all at the same time."
Billy Warlock (Frankie Brady, DOOL)
"Stephen Nichols, A Martinez and Marcy Walker, because they're just good all the time ... every day."
Very Hot Shots
Ally Walker (Andrea, SB)
(Wearing a T-shirt and seductive look)
"Al has more energy than anyone I know. She makes coming to work a joy and turns even the most mundane days into adventures. I love her very much. By the way, Al, can I have my T-shirt back?" - Scott Jaeck (Cain, SB)
Synopsis
Kelly escapes to Santa Fe for a few days and is annoyed when TJ shows up. He loves her and thinks they need some time alone with each other, Daniels explains. When he suggests a game of tennis, Kelly agrees.
A storm breaks out and the couple race back to the motel. TJ takes Kelly in his arms asks to spend the night. She succumbs and suggests they eat dinner - in the room. The power goes out - which means no air-conditioning - but TJ and Kelly don't seem to mind that.
At Johnny's a lonely Jeffrey plays the piano while Ilianna sings. Afterward, the two decide to have a nightcap. A shifty looking man appears out of nowhere and fires a shot at Ilianna. Jeffrey is hit instead. When Kelly learns her husband is in the hospital, she hurries to his side. TJ follows and is confronted by Sophia, who asks him how much it would take to get him out of town permanently. He tells her that no amount of money would keep him away from Kelly.
Tori checks out of the hospital and tries - unsuccessfully - to get her son back from Cruz. Tori seeks the advice of her lawyer. The law is on her side, Jason says, but Tori will have to remain calm. After all, Cruz is going to have to prove that Tori is an unfit mother in order to gain custody of the boy.
Following a lead that Mason may be two hours away in Hemet, Julia and Cruz decide to drive there. Meanwhile, Gina and Keith hop aboard the police helicopter and arrive in Hemet first. They head for the office of the sheriff, who mistakes Keith for an extortionist named Lefty and throws him and Gina in prison. Once things are cleared up, the guilt-ridden sheriff not only reveals that Mason is traveling with a gang of bikers, but he agrees to detain Julia and Cruz upon their arrival.
Disguised as bikers, Gina and Keith arrive at Ma Wilson's Bar and Grill. Ma Wilson is a huge, bearded man who is anything but helpful. Keith shows a photo of Mason as a mean-looking dude named Gage grabs Gina. All hell breaks loose. Ma Wilson breaks things up after learning who Keith is. Gage admits Mason joined a circus.
Keith and Gina ask the owner of the circus, Rossini (who appears to be half man/half woman), about Mason. Rossini suggests they ask around. Gina finds Fireball, a charming midget, who agrees to help her - on the condition that she help him with his act. Gina agrees. Fireball tells her that Mason left for Vegas, then drags her off.
Meanwhile, Keith meets Lady Chatterly and faints when she wraps Fred, her boa constrictor, around his neck. (Keith hates snakes.) Timmons comes to just in time to be confronted by Julia and Cruz, who were rescued by Father Michael. Suddenly, the ringmaster directs everyone's attention to the center ring. They are stunned as Gina flies out of a cannon. While the others return home, Gina, who has a headache, and Keith head for Vegas. A few days later, Michael flies into Julia's office and hands her a newspaper. On the front page is a picture of Mason with the headline, "Vagrant wins $100,000 with last quarter." They leave for Vegas.
Arthur has Scott transferred to the free clinic. Clark is livid - especially after getting a load of the place, which is a dump. Heather is optimistic about the possibilities. She suggests they throw a painting party in which the community can participate. Scott's anger fades.
Meanwhile, Arthur secures Zach a position at the hospital. Zach admits he still has feeling for Heather, but isn't too optimistic about a future with her. Undaunted, Arthur invites Heather to join him and Zach for dinner at the Orient Express, and is appalled when she shows up with Scott. Arthur reminisces about the summers he, Heather and Zach shared in Newport. Scott feels left out.
Having been rejected by Kelly, TJ throws a temper tantrum at the Lair. Ted stops him - but not before TJ slashes his hand with broken glass. The two go the hospital, where they run into Kelly (she's there with Jeffrey, who is having a checkup). TJ blasts Kelly for sleeping with him and then throwing him away. While TJ is being examined, Ted reminds Kelly how TJ has ruined the life of every woman he's gone after. Unbeknownst to them, Jeffrey is listening ...
Gina and Keith enter a Vegas casino. Keith feels like a kid in a candy store. Gina tells him not to lose sight of why they're there - but he's already headed for the blackjack table. Gina wants her husband to cash in while he's ahead. He puts all his chips on one square. Suddenly, Gina and Keith are sitting at an empty table with not one chip in front of them. Gina yells at Keith for losing everything. Meanwhile, Julia and Michael finally arrive at the casino. The foursome run into each other at the bar. On the TV, CC offers a reward for Mason's rescue.
Upstairs in a suite, Carrie listens to CC's announcement and stares in disbelief as she sees Mason's face on the screen. She turns off the TV as her fiancee comes out of the bathroom. She addresses Mason as "Sonny." Mason smiles and pulls her to him. Later, Mason is abducted by someone who doesn't want the nuptials to take place. Gina finds Mason tied up in the basement.
Battle of the Daytime Executives
Contract disputes have landed Santa Barbara Creators Bridget and Jerome Dobson and New World Television in Court.
Here's Bridget Dobson's Version:
Everybody is suing everybody and the soap world has never seen anything like it.
Santa Barbara, nervy in its risk-taking, envied for its casting, rocky in its ratings, yet triumphant in its Emmy citations, is at the dead center of a legal hotbed. New World Television, the company which purchased the show in 1985 from its creators, Jerome and Bridget Dobson, has filed a $25,000,000 suite against them. The charge (ignited by Bridget Dobson's desire to fire SB's head writer, Ann Howard Bailey, who was appointed in 1986), is that the husband-and-wife team breached their contract and jeopardized the success of the serial when the "disrupted and confused" members of the show's production staff and sought to discredit Bailey. New World, which has business and financial control of the soap, and NBC-TV, which has ultimate control over the creative elements of the series, would not agree to Bailey's termination. The Dobsons (Jerry, at this point, had left the show but Bridget continued on as executive producer) insisted they had the contractual right to hire and fire.
According to their attorney, Jim Hornstein, "Because New World refused to honor the Dobsons' right to creative control, the Dobsons were entitled to a return of the series they had sold to New World." The Dobsons countersued for nearly five times the amount - a whopping $120,000,000 - a few days after Bridget was physically barred from the set by eagle-eyed guards who'd been supplied with her 8x10 glossy and alerted to her probable arrival.
A mess, without question. A brouhaha of the highest order. But is La Dobson sweating bullets? Well, not exactly. Court cases in the real world - as opposed to Soapland, where one can often go from crime to acquittal between station breaks - do take a while. So, while husband Jerry has busied himself with the creation of a new soap and a screenplay, Bridget's rented herself an office in LA's hottest high-rise, the Fox Plaza, and is word processing away at a novel.
Dobson, it would appear, is never without her sense of humor - it seems to have been her salvation through the last trying months. Speaking with her in her Century City office (the Dobsons long ago gave up their actual Santa Barbara digs in favor of Bel Air luxury, and a less harried commute to the Peacock Studios), it's impossible not to notice the occasional tears. They're not of the crocodile variety. "I'm addicted to constant feedback in daytime television. Whether one gets immediate gratification or pain, I love it. I feel a bit shut out now. I have many friends at the studio and I miss seeing them in a daily way.
"We'd like our baby back," she says in reference to the lawsuit. "We want the rights we had in our contract when we sold the show to New World. We had explicitly been given creative control. We're anxious to get the case to court. We hope to be restored to a position where we can chart the creative course of the program. The lawsuit is going to be a long and tedious process, but we're optimistic that justice will be done." In the meantime, Dobson doesn't mind getting down to brass tacks. No, she has not been riveted to her set since the enforced departure ("I find it painful to watch Santa Barbara - I have only seen some of it"), but the former executive does have a few quibbles and bits.
"I would have certainly maintained the Lockridges," she says of the soap's once powerfully drawn family, which gradually disintegrated into pointlessness. "And I would have never gotten rid of Hayley (played by Stacy Edwards). Besides the fact that Stacy was a very good actress, she was playing Gina's niece. The best reason to keep Hayley was that she made Gina vulnerable - and Gina as 'pure bitch' is not as interesting to watch."
Such differences of opinion with head writers Ann Howard Bailey and Chuck Pratt, Jr. were transpiring even when Dobson was still holding the reins. She detested the killing of shady Southern belle Caroline Wilson, played by the excellent and very touching Lenore Kasdorf. "Head writers have to be excited about what they are writing. If they're not, it doesn't come out well. The Caroline story was complicated and gutsy, but the potential never materialized. It wasn't going anywhere, so I guess was probably just as well to end it. But when you throw out characters that the audience loves, you are making a vast mistake. No, when a head writer takes over, just as Jerry and I did on Guiding Light and As the World Turns, you use those characters that are loved and make your stories flow from them," believes Bridget.
The casting of the very important Pamela Capwell Conrad was, perhaps, the last point of contention between the factions. "Jerry and I had conceived Pamela many years ago but NBC did not want us to bring on another forty-ish character. But we kept pushing because we know it could be hot stuff." Once the powers gave in, movie queen Samantha Eggar was signed, but quickly got cold feet when the rigors of daytime grind were fully explained to her. Fellow British actress Shirley Anne Field was cast instead. "She was Ann and Chuck's first choice," reports Bridget. "Marj Dusay was my choice but we case Shirley Anne because we wanted the head writers to be excited. To me, Marj is a great beauty and seemed to be the kind of person that CC (Jed Allan) would have once been attracted to. Ann and Chuck's perceptions were not marginally different from mine - they were very different."
Ironically, Field wound up delivering a tepid, colorless performance and was given the heave-ho after three months. The replacement? Marj Dusay. Perhaps just as ironically, Dusay came on board as nothing short of brilliant with each icy line reading revealing encyclopedias full of character. Clearly, the plot possibilities were endless and the likelihood that the actress would emerge at the forefront of Santa Barbara - much as Elizabeth Hubbard rules supreme as Lucinda on As the World Turns - must have seemed delicious to loyal watchers. Guess again. Dusay was on the unemployment line before she knew what hit her and the dandy part was foolishly tossed into limbo.
As if her unprecedented circumstances and all the attending legal hoopla were not already the stuff of high drama, the plot further thickened when SB won this year's Emmy for Outstanding Drama Series. While the head writing team went home without a trophy, Dobson did not.
Personally responsible for executive producing seven of the twelve months being judged by the Emmy voters, Dobson found herself sharing a table with the very folks she'll be soon wrangling with in court - an experience simultaneously fraught with great pride and great tension. When one of the producers of the Emmy telecast came out during a commercial break to warn all long-winded winners to "keep your speeches short or a security guard will haul you off," Dobson was heard to crack, "Hey, I'm right at home here!"
The talent for repartee is undeniable, but so, too, has been the emotional toll.
"Jerry and I are sticking very close together on this. We are supporting each other and that helps. Being involved in other work also helps. Knowing that we have right and truth on our side helps. We don't have to lie, we don't have to exaggerate. Ultimately, I believe that we will be rewarded for our patience and our efforts."
Rating Soaps Romances
Eden and Cruz Castillo
Fantasies: 5 roses
These two share the most active fantasy life on daytime
Fun Factor: 1 rose
Lacking. Too much gloom and doom.
Fiascoes: 5 roses
The list is extensive. They've seen it all.
Fights: 4 roses
Though they don't fight often, when they do it's for a good reason.
Future: 5 roses
They're soul mates. And nothing - not even death - will part them.