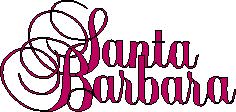 From the Sept. 6, 1988 issue of Soap Opera Digest.
Q. A recent rerun of Little House on the Prairie called "The Wolves" featured a little boy who strongly resembled Scott Jaeck (Cain) on Santa Barbara. Did Jaeck appear on the show as a youngster?
A. No, Jaeck never appeared on the program.
Sounding Board
Even with the writers' strike, Santa Barbara is still a classy show. Especially compelling of late were the performances by Robin Wright (ex-Kelly), Marcy Walker (Eden), Ross Kettle (Jeffrey) and A Martinez (Cruz) during the ordeal of Kelly's miscarriage. I have never seen a subject treated with as much sensitivity and realism. Wright brought to the screen the gripping anguish of the expectant mother and Kettle did an equally brilliant job as the husband who has no outlet for the intense rage he feels following the loss of his first child. The couple's scenes, as well as those with Walker and Martinez, accurately portrayed the emptiness and hurt a family must deal with after a miscarriage. Santa Barbara has outdone itself.
H.H., St. Louis, Mo.
As far as I'm concerned, the biggest letdown of 1987 was Santa Barbara's failure to resurrect the extremely popular Mary Duvall McCormack, portrayed by award winner Harley Kozak. No amount of pointless plots, humor or uncharismatic couples like Mason and Julia will make viewers forget the unique and moving Mary/Mason love story.
A.A.P., Palomino, Santa Ana, Ca.
The Nielsen ratings are all out of whack. How can an Emmy winner like Santa Barbara be ranked ten, while a tacky program like Bold and Beautiful is only ranked eight? What a total joke; I can see why Young and Restless is often on top, but how can One Life to Live be anywhere near there at number three, with its ridiculous Buchanan City stories and that horrible tramp Tina running the show?
M.T.
Story Synopsis
Confused over her feelings for TJ and Jeffrey, Kelly winds up at the beach, lost in thought. TJ is there, too, drowning his sorrows in a bottle of booze. Eventually, TJ approaches Kelly and starts spouting how she doesn't want to hear the truth about them. Kelly starts to leave but TJ grabs her and forcefully pulls her into a kiss.
A disheveled Kelly doesn't arrive home until the next morning. Jeffrey sees her torn blouse and demands to know where she's been and if TJ did this to her. Kelly refuses to talk about last night and insists TJ wasn't at fault. Jeffrey doesn't believe this and races out. In spite of herself, Kelly can't stop thinking of TJ. Over at the Orient Express, a guilt- ridden TJ can't get Kelly off his mind. Jeffrey confronts his rival, warning him never to touch Kelly again - or he'll kill him.
Back home, Jeffrey makes every attempt to salvage his marriage. When he is called to San Francisco on business, he asks Kelly to join him. She declines. A frustrated Jeffrey tells her to stop trying to run away from him - he's the same man that she married months ago. Kelly tells her husband that she isn't the same woman, realizing that she's actually in love with TJ.
Eden offers to help Lydia research the unemployment story, admitting she loves her father but disagrees with him on this issue. Lydia says she and the crew will be going to the factory where these men worked, despite the fact that CC threatened to have them arrested. Eden joins the group - just what Lydia had hoped would happen - and they're carted off to jail. This prompts CC to drop the charges. He and Lydia exchange barbs, but there's an undeniable mutual attraction. Soon, the two are seen around town together. He can't wait around for Sophia forever, Capwell rationalizes.
Meanwhile, an angry Eden realizes that Lydia was only using her (the father/daughter conflict would give her TV-special high ratings) and decides to take her story to a different network, where she meets with Roland Montgomery.
Gina and Keith arrive in Hawaii for their honeymoon and proceed to have a wild romp in bed. Afterward, Keith is sipping an exotic drink as Gina performs a striptease - but Timmons seems more interested in a hole in the wall. He reaches in and pulls out a velvet pouch. Gold coins spill out and the newlyweds rejoice, adopting a finders-keepers attitude. That night, however, Gina has a nightmare in which she and Keith are tortured for stealing the gold. She wakes up in a cold sweat, decides to turn the coins over, and vows to repent for her evil ways.
Agonized by the recurrent nightmares she's experiencing, Sister Sarah finally confesses that there was another person with her and Mark McCormack on the night of the murder - and it was Mason. A horrified Julia recalls Mason telling her of his blackouts and his contention that he could have killed McCormack. Later, however, the truth is revealed when Sister Agatha arrives at Julia's. Like Mason and Mark, Julia was sent by Satan to destroy her church "family," Agatha spews. Now it's Julia's turn to die.
Upon returning home from their honeymoon, Gina tells Brandon that she and Keith are going to start living decent, honest lives. Keith isn't convinced that this is the way to go but is more concerned about the spots on his body. Gina panics, thinking it's some contagious, tropical disease and starts reviewing Keith's life-insurance policy. Dr. Clark arrives and thinks it's probably an allergic reaction. He administers a show and leaves. Keith decides what he's allergic to is his agreement to be decent.
Scott arrives at Heather's apartment with pizza and Bogart videos. Heather seems uncomfortable and keeps trying to tell him something, but Scott stops her with a kiss. Suddenly, Zach walks in on them from the bathroom, commenting that this shower was better than the one at Heather's last place. Heather introduces Scott to Zach, whom she knew at med school. She's putting him up for a few days since he has an interview at the hospital. Scott is jealous - and even more so after learning that Zach knows Heather's father and gets on well with him. Sure enough, Zach gets a cushy job at the hospital, which puts a strain on Heather's and Scott's relationship - especially after Arthur begins giving Zach cases that should go to Scott. Reaching her boiling point, Heather tells her father off in no uncertain terms.
Michael has put two and two together and, along with Cruz, is in hot pursuit of Julia, Sarah and Agatha. Meanwhile, Julia tries to rationalize with Agatha that the courts will understand that she was protecting Sarah when she killed Mark, but no one will understand if she kills her. Agatha wants Julia to pay for the suffering she caused just the way Mason did. Suddenly, Michael and Cruz arrive. Michael talks to Agatha about the wonderful things she's accomplished in her life. Agatha is affected by his words. She realizes that she's defeated and surrenders the gun to Michael, who tells her that they'll get her legal and medical elp. Agatha shocks everyone by announcing that Mason Capwell didn't die. Whose body was identified after the fire? Michael wants to know. It was Lester, the handyman who worked at the mission. Julia enlists Cruz's aid to find Mason. Gina and Keith get wind of this and start their own investigation.
So much for their vow of decency.
Comings and Goings
Coming:
Leigh McCloskey (Zach) - is slated to create a new triangle with the characters of Scott and Heather. The actor played Dallas' Mitch Cooper from 1979-82, and again in 1985.
Going:
Deborah Pollack (Sister Agatha) - left the show due to the end of her story line.
Hollywood Happenings
Close Call: Santa Barbara's Nancy Grahn (Julia) is still in a cold sweat from the near-calamity she experienced recently at a fast-food restaurant across the street from the SB studio. It was a nice, sunny day and Grahn was lunching with Pam Fryman, the assistant director of SB, when suddenly everything went berserk. Nancy laughed at the same time she was chewing on a french fry and she began to choke. Unable to breathe, Grahn panicked, started to run, and was grabbed by Pam, who, luckily, knew the Heimlich maneuver and applied it. Had Fryman, or anyone else in the restaurant, not known how to help, Nancy Grahn would most likely have choked to death.
"The terrifying thing is that we never know when this can happen to any of us," Grahn told me. "And even if you know how to do the Heimlich, you probably have never had to use it. It was the most frightening thing that's ever happened in my life. I wouldn't have been here if Pam hadn't stopped my choking. I think everyone should know this maneuver, and practice using it. That's the hard part, because you have to catch a panicked person and be almost brutal to save (his/her) life. Please learn this method if you love the people around you." Grahn is getting back to normal and even kidded Pam about being responsible for her from now on, and envisioned a dubious epitaph like, "Soap Actress Chokes to Death on French Fry in Juicy Harvey's," but her consciousness is forever raised.
No Plain Jane: Santa Barbara's Jane Rogers (Heather) is a take- charge lady with a chewy chocolate center. "I'm good at being a boss. I started back in Minneapolis as a waitress and after moving out to LA to get my acting career started, I went right to work at a restaurant. Luckily, I got promoted to Service Training Coordinator. I traveled all over, training restaurant crews. I love working as an actress, but I'm glad to have a back-up profession. I think it's an absolute must in this business."
Also on Jane's list of absolute musts is putting a stop to indiscriminate and cruel testing on animals. "If human beings can be helped by animal testing, then the animals should be treated with care. Horrible and totally unnecessary things are done - things I can't bear to think about - just to see what will happen if ... We do not have to subject anything to this kind of pain, and I do my part by boycotting the products of companies that indulge in this horror."
News Section
When a truly brilliant soap performer is given her walking papers - as was the case with Marj Dusay (ex-Pamela, Santa Barbara) - I start foaming. Daytime is already so top-heavy with untrained, undistinguished talent that it makes Dusay's abrupt departure seem even more unfair - both to her and the viewers.
I nosed around a bit, and by all backstage accounts, Dusay had been behaving like the ultimate professional. But fans of the actress need no further proof of her worth than what they see on the small screen. Day in and day out, the lady knows how to grab a part by the throat and play it from hell to breakfast - just as she did as Myrna Clagg on Capitol. Into a single line of dialogue, Dusay can pack more blistering intention than most other actors would use in putting out a fire.
So, what's the scoop, SB? Sorry to inform you but you need all the help you can get. The once-vital love affair between Cruz (A Martinez) and Eden (Marcy Walker) has become about as riveting as last week's want ads. When Robin Wright (ex-Kelly) took a powder a while back, she put a further crimp in the proceedings. And, while Keith (Justin Deas) and Gina (Robin Mattson) never fail to provide a chuckle, so do Larry, Moe and Curly Joe. Whatever has happened to dramatic possibilities? You all must have been blind to have missed Dusay's potential to emerge as SB's very own Grande Dame. Soaps make a career out of ripping each other off - so why didn't SB take a look at Lucinda (Elizabeth Hubbard) on As the World Turns or Kay (Jeanne Cooper) on the Young and the Restless) for evidence that powerful, dynamic, older women are a soap writer's gold mine?
Furthermore, SB added insult to injury by refusing to issue a comment on Marj's firing. Over a two-and-a-half week period, I made numerous phone calls in an effort to get a statement - either directly or indirectly - from Executive Producer Jill Farren Phelps. She avoided me like the plague. Shabby, shabby, shabby.
Status Chart of Offscreen Happenings
Marriage expert Chip Mayer (TJ, Santa Barbara) is officially engaged to actress Shauna Sullivan, who was seen at this year's Emmy's with a rock on her finger the size of Gibraltar. Mayer was previously hitched to actresses Teri (We Got It Made) Copley and Eileen Davidson (Ashley, Y&R).
Name That Tune
Santa Barbara:
(Many of these songs are available (well, I don't know about now! - Jean); write to the SB music department for information: 3000 West Alameda Ave., Burbank, CA 91523.)
Cruz and Eden: "The Change in Me is You," by James Dunne; "All My Life," by State of the Heart; "If I Believed," by Patti Austin.
Mason and Julia: "Never Thought That I Could Love," by Dan Hill; "Another Place, Another Time," by Grant Saidiner and Ron Boustead.
Kelly and Jeffrey: "I Can't Help Falling In Love With You," by Corey Hart; "Can't We Try" by Dan Hill.
Cain and Andrea: "Thank My Lucky Stars," by Ken Cummings; "Intimacy," by Liz Lachman.
Scott and Heather: "Listen" by Cliff Downes and Randy Goodrun.
CC and Sophia: "With This Ring," by Judd Friedman and Eric McClure; "The Stars in Your Eyes" by Air Supply.
Pamela's Piano Theme: "Vivian's Eyes," by Rick Rhodes and Marc Greene.
Fall Preview
Len Friedlander, Producer:
"Eden is going to have to make a tough career choice and will find the odds stacked against her. Watch for the custody battle over Chip to cause interesting developments between Cruz and Eden and Tori. We'll see what lengths Tori is willing to go to in order to hold on to her son.
"Cruz's brother, Rick (sic), comes to town and stirs up lots of trouble for Cruz and Eden.
"Expect to witness a whole new side of Mason when he returns from his mysterious disappearance. He'll face trouble in his relationship to Julia, which may be put into jeopardy.
"Kelly's marriage to Jeffrey has been suffering due to her involvement with TJ. Don't expect things to get better in this marriage.
"CC and Sophia will reconnect and try to strengthen their relationship.
"Father Michael faces constant battles of conscience in regard to his priesthood, his feelings for Julia, and his demons from his past.
"Look for Gina to return to her old tricks.
Michael Gliona, Director:
"I think that Cruz and Eden will probably separate again - like they do every six months or so - before getting back together. I don't think the audience wants to see them happy.
"Despite CC and Sophia's recent reconciliation, I think they will be faced with more conflict. I think CC will probably get a younger girlfriend, maybe someone Eden brings to the office.
"I think that Mason and Julia will probably get married - but I don't expect that to last too long. I figure they'll end up divorced. I think they will both find new love interests.
"Gina and Keith are hard to predict but I have a feeling that they will turn good for a while - which will make them somewhat boring.
"I think Cain will find out that Ming Li is not his daughter and he'll end up falling in love with her. One way or the other, I think Cain will end his relationship with Andrea."
A Martinez (Cruz Castillo):
A Martinez has come up with a story line for Cruz that he is very serious about and intends to pitch it to the show's writers: "I would love to see Cruz, in a rare moment of clarity, recognize his own incompetence as a detective and turn over his investigative agency to Cain and Andrea. He'll take to gathering mushrooms in the hills behind Santa Barbara and get hooked, increasingly distanced from day-to-day reality but increasingly useful to his friends as a consultant on matters of the spirit. Meanwhile, Eden, still gearing up to take over Capwell Enterprises, will be seeing Cruz less but she'll definitely be enjoying him more."
Some of A's other thoughts are as follows: "I think Chip will have an unexpected effect on Eden - one that the audience will welcome ... Cain and Cruz will become closer friends ... TJ will be revealed to be a better guy than we think he is ... Mason will face new trouble ... Scott and Heather will become the new "lightning" lovers on the show - with love scenes as hot as the censors will allow ... We'll learn that Father Michael has a darkness in his background. Unfortunately, I have a feeling that we're going to lose Justin (Deas, who plays Keith) for a while, since his pilot was just picked up for 13 episodes next season. Where this leaves Gina, I don't know. Maybe they'll reform her. I'd like to work with Robin (Mattson, who plays Gina) but that doesn't seem likely. And," jokes Martinez, "I just hope that Justin's pilot fails - so he comes back to the show."