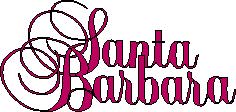 ---
This synopsis of Santa Barbara was written by Jim Armstrong.
---
1984
When Santa Barbara hit the airwaves, the storylines centered around four families: The wealthy Capwells, who seemed to own everything in Santa Barbara, the upper-class Lockridges, who had lost much of their local prestige to the Capwells, the blue-collar Perkinses, and the Hispanic Andrades.
Joe Perkins had just gotten out of jail after doing time for the murder of Channing Capwell, Jr. five years ago, a crime for which he had always maintained his innocence. He worked to clear his name and find the real killer, as well as to win back his former lover, Kelly Capwell, who had turned to Peter Flint. Joe's return also divided his family, as his father John Perkins still believed Joe was guilty. Meanwhile, Sophia Capwell, mother of Channing and ex-wife of C.C. Capwell, had been lurking around Santa Barbara for several years disguised as Dominic, a man with a beard. She had supposedly drowned many years earlier while on a yacht with Lionel Lockridge, a man she was having an affair with.
Santana Andrade had been involved with Channing before his death and gave birth to his child. However, the manipulative C.C. Capwell had forced her to put the child up for adoption. The child, now five-year-old Brandon, was adopted by Gina DeMott, whose late husband had been a friend of C.C's. Santana was determined to find and reunite with her child. She sought the help of Mason Capwell, C.C.'s oldest son who always felt he was in the shadow of brother Channing. Santana's parents had been longtime workers at the Capwell mansion, Rosa Andrade as the cook, and Ruben Andrade as the gardener.
The Capwells and the Lockridges had been business enemies for many generations as well as next-door neighbors. The tension increased when teenagers Laken Lockridge and Ted Capwell fell in love. Other members of this younger generation included lifeguard and aspiring journalist Warren Lockridge, Joe's younger sister Jade Perkins, Santana's brother Danny Andrade, and Gina's sister Summer Blake. Jade Perkins was an aspiring actress, but in a trip to Hollywood almost got hooked up with sleazy producers who were more interested in showing off her body than her acting abilities.
Santa Barbara had its share of romantic couples, as well. Lionel and Augusta Lockridge had a comedic relationship, somewhat insulting to his mother Minx Lockridge. Meanwhile, Eden Capwell had returned to Santa Barbara from a trip to Europe, where she fell in love with a local Hispanic cop Cruz Castillo, a relationship that C.C. did not approve of at first.
---
1985
Two tragedies hit Santa Barbara early in the year, first an earthquake, and then a fire during Cruz and Eden's first attempt at marriage. John Perkins was killed and Augusta Lockridge became blind. Augusta broke up with Lionel and turned to another man, Frank Armsted. She eventually regained her sight and reconciled with Lionel.
Joe had convinced Kelly of his innocence and they got back together and later were married. But a jealous Peter Flint went on a killing spree, becoming known as the Carnation Killer and stalked blondes that looked like Kelly. Soon after Kelly and Joe's wedding, Peter killed Joe right before being killed himself. Kelly soon fell in love with Nick Hartley, a photographer and Vietnam veteran. His brother Dylan had arrived after finding gold across the Pacific and was chased by a mobster named Carlo.
It was finally revealed that Sophia Capwell was alive, though she was not exactly welcomed with open arms by her family at first. She instead was befriended by her stepson Marcello Armonti, a man who blamed C.C. for the death of his parents in World War II. C.C. had recently married Gina to get closer to his grandson, Brandon. Meanwhile, Gina battled drug addiction and was having an affair with Mason.
Cruz believed in his friend Joe's innocence, so he continued to investigate Channing's murder after Joe's death. He called for a reenactment in the Capwell study, where Channing had been murdered during a party to celebrate his victory in the World Championships of equestrian. Sophia finally remembered that she shot Channing, thinking that it was Lionel and that the gun was unloaded. C.C. had unwittingly loaded it. Marcello had used hypnosis to help her block it out, and they escaped through the tunnel that connected the Capwell and Lockridge mansions.
Ted and Laken were still in love, but Christy DuVall wanted Ted for herself. Christy was raped by her step-brother, Steve Bassett, who forced her to name Ted as the rapist. Steve was the Assistant D.A. and prosecuted Ted. Eventually Christy let Ted off the hook and later killed Steve in self-defense. Christy's sister, Sister Mary DuVall arrived, and Mason fell in love with her.
Amy Perkins, Jade and Joe's sister, gave birth to a boy who was immediately kidnapped by her doctor, Dr. Renfro, who was working for Jack Lee's lookalike cousin Jerry Stanfield. Jerry kidnapped Jack and took his cousin's place as C.C.'s lawyer and Julia Wainwright's boyfriend. Julia, Amy, and Amy's boyfriend Brick Wallace travelled to the island of New Stailand to free Jack Lee and recover young Johnny, who had been crowned King of the island.
C.C., with the help of Santana, caught Mason in bed with Gina. For revenge, Mason found out and told C.C. first that Channing had been gay, and then that Channing was a product of Sophia's affair with Lionel. This shocking information sent C.C. into a coma for months. Gina, who feared C.C. would divorce and disinherit her if he recovered, created an elaborate scheme to pull the plug on C.C.'s life-support system, making it look like Eden did it and even making Eden think that she did it. Although C.C. survived, Eden couldn't face Cruz after this, and instead turned to Kirk Cranston, a man she worked with at Capwell Enterprises.
---
1986
Eden felt indebted to Kirk for protecting her after she thought she pulled the plug, and they married, despite the protests of Cruz. C.C. woke up from his coma and divorced Gina. He promised Santana custody of Brandon if she had a husband and a stable home. Cruz, who had dated Santana in high school, knew how much Brandon meant to her. Since Eden was married to Kirk, Cruz offered to marry Santana, and Brandon was taken from Gina and given to Cruz and Santana. Gina, in an attempt to prove Santana was an unfit mother, slipped addictive drugs in place of Santana's allergy pills. Santana eventually entered a rehab center.
When Kirk figured out that Gina had pulled the plug on C.C., he sent Eden anonymous blackmail notes to keep Eden thinking she did it. When Eden began to have doubts about their marriage, Kirk blackmailed Gina into trying to kill Eden. It failed, and after a struggle at the Capwell boathouse, Gina was presumed drowned. When Eden and Cruz began getting together, Kirk tried to kill them. Gina returned and saved them, and Kirk was arrested. Cruz' old girlfriend Victoria Lane arrived, hoping to win him back. Keith Timmons became the new D.A. and blamed Cruz and Tori for his sister Katie's drowning on the beach.
Mary left the convent and fell in love with Mason, but she married her old boyfriend Mark McCormack after an explosion in a cabin that Kirk had intended to kill Eden and Cruz. Mark was thought to be dying, but survived. After Mark recovered from his impotence, he raped Mary. Soon afterwards Mary was killed when the "C" sign at the top of the Capwell hotel fell on top of her.
Kelly was in love with Nick, but in a moment of weakness, slept with Dylan on a business trip. She and Nick were to marry, but she broke down at the altar and told Nick about her affair with his brother. When Kelly and Nick began to reconcile, Dylan became jealous and came after Kelly with a gun in the Presidential Suite at the Capwell hotel. In self-defense she pushed him out of the window and he fell to his death. A videotape that showed the whole thing was stolen by Gina. Kelly flipped out and was committed to a mental institution run by Dr. Rawlings. Pearl Bradford went undercover as a patient to help her out and to find his brother Brian, who had been a patient there.
Lionel Lockridge gained a son when Brick found out he had been switched at birth with Channing by Minx Lockridge, who didn't want her grandson raised by Capwells. Brick and Amy Perkins married. However, the Lockridge family began to fall apart when Warren became a compulsive gambler and was caught stealing cash from the casino, Augusta ran off with another man, and Laken left town and got married.
C.C. had two nieces come to live with him, Courtney and Madeline Capwell. Courtney fell in love with Pearl and got him a job as the Capwell chauffeur. Madeline was soon murdered, and her husband David Laurent was tried for the crime. He was defended by Julia Wainwright, who had an affair with her client. David was acquitted, and Courtney eventually admitted to killing Madeline in self-defense.
Gina's niece Hayley Benson arrived to stay with Gina. She got a job as the Capwell maid and fell in love with Ted, who was being harassed by a woman who called herself Roxanne. Roxanne turned out to be Jane Wilson, Ted's boss at the radio station where he worked. Mason returned to Santa Barbara, proclaiming that he was saved by an evangelist named Lily Light. She turned out to be Gina's daughter--Gina had been raped at age 13. Hayley hooked up with Lily to protest casino gambling. Hayley started a fire at Buzz's Place during a protest, and Amy Perkins died in the blaze. To avoid testifying against Hayley, Ted married her.
---
1987
When Tori and Cruz were shipwrecked, she made love to him, knowing that he was dazed and that he thought she was Eden. She became pregnant with a boy, Chip. Mason offered to marry her and claim the child as his so his son would be first in line to inherit from C.C. and also to protect Eden's relationship with Cruz. Meanwhile, Mason signed an contract with Julia to be the father of her child. As it took several lovemaking sessions to get Julia pregnant, they began to fall in love. She gave birth to a daughter, Samantha.
Eden and Cruz were planning their wedding when Eden's car was stopped by a mysterious woman who pushed her over a snowy cliff in the mountains and made it look like she died in a helicopter crash. The woman was Elena Nikolas, who was going by the name Eleanor Norris. Eden became paralyzed from the waist down and was picked up by a mountain man named Cain Garver, a troubled Vietnam veteran who fell in love with her and held her hostage.
Pearl helped Kelly escape from the sanitarium, and also freed his brother Brian and Kelly's roommate, Alice Jackson. Kelly was sent to Europe to avoid prosecution for Dylan's murder. Jeffrey Conrad was sent to keep an eye on her and they ended up falling in love. Gina held the tape proving Kelly acted in self-defense and used it to force C.C. to marry her. When she was caught embezzling from C.C., she gave up the tape and Kelly's name was cleared. Kelly and Jeffrey later married.
Cruz mourned the loss of Eden and, along with Pearl, started the Last Resort Detective Agency. Elena also got a job there to keep an eye on the Capwells, as she was C.C. and Pamela's daughter and wanted revenge on the Capwell family. She kidnapped Mason and tried to kill Kelly several times. Eden escaped Cain's hold and returned to Santa Barbara, and Cain followed her. Eventually Cruz and Pearl figured out who Elena was. Elena was killed and her dying words named Cruz as the murderer. Cruz was relentlessly prosecuted by by Keith for the crime. Eventually Elena's step-father Alex Nikolas admitted that he was there when Elena died and was trying to prevent Elena from killing herself when the gun went off. Pamela, who was thought to be dead, returned to reconcile with her sons Jeffrey and Mason.
An illegal adoption agency that sold stolen children came to town, and Tori's friend from Hollywood, Paul Marshall, was a part of it. Chip, Samantha, and Johnny were all kidnapped, but were recovered. Mason was in love with Julia, and Tori accepted his arrangements for divorce, which included support for Chip. Tori want back to acting and soon became addicted to the cocaine supplied by her director, Mel Stock.
Lionel fell in love with Jane's mother, Caroline Wilson, and took in Jane and Alice, Caroline's other daughter. Alice's father Gus Jackson returned to make amends with his daughter and left town with her. Lionel married Caroline, but she died shortly after of a rare disease.
Hayley was brutally raped, and Brick was an early suspect. The rapist turned out to be one of his bartenders at Johnny's Place. Ted and Hayley had trouble coping, especially after Laken returned, and they divorced. Hayley fell in love with Jake Morton, who worked with Ted at the stables. Brick fell in love with Jane, and after a brief stint as a cop, left town with Jane and Johnny.
---
1988
Pamela Conrad wanted to win back C.C., so Sophia hired a man to force her out of town. Instead, Pamela's oil rig was blown up. As Cruz and Eden were getting back together, Cain stayed in town. He met Andrea Bedford during the oil rig cleanup and they fell in love. Andrea was looking for the assassin known as "The Fox" who killed her father. Cruz and Cain helped her out, and The Fox turned out to be Kathleen, a nurse at the hospital. Cruz and Eden were finally married. Soon afterward, Chip needed a bone marrow transplant, and Tori was forced to tell Cruz that he was the father, as he was the only suitable donor. Tori eventually entered a drug rehab clinic and gave custody of Chip to Cruz and Eden. Eden flew to Europe to undergo an operation that would enable her to bear children again.
Gina became blind when C.C. hit her, and she fell in love with her doctor, Scott Clark. But when she feigned blindness even after she recovered, Scott broke off their relationship. Gina went back to Keith and they married. For revenge against C.C., Pamela told Keith about Hal Clark's death at the Capwell Boathouse 25 years ago. C.C. and Hal had gotten in a fight and Hal died. However, Hal's nephew, Scott had witnessed it at the age of 5. Under hypnosis, he revealed that Pamela had come back that night and shot Hal. Scott fell in love with the doctor who hypnotized him, Heather Donnelly, and her father, Arthur Donnelly, began seeing Sophia. C.C. briefly dated journalist Lydia Saunders.
T.J., Laken's ex, returned and got a job with Sophia at Armonti Industries. Sophia fell in love with T.J., but broke it off when she realized he was embezzling from her. He then had an affair with Kelly. Pamela wanted Jeffrey to return to England with her, so she poisoned Kelly. She was caught and sent to a sanitarium. Jeffrey, seeing that his marriage was failing, plotted with T.J. to kill Kelly for the inheritance money. At the last moment, Jeffrey backed out. T.J. later hit Jeffrey and he became brain dead and confined to a wheelchair. Meanwhile, after Hayley was killed by a drunk driver, Jake sold his half of The Lair to T.J. and left town. After Jeffrey became well again, he and Kelly divorced and he left town.
The bones thought to be Hal Clark's belonged to Mark McCormack, and Mason was a suspect. When he went to investigate at the church where Mary had belonged, there was an explosion and Mason was thought to be dead. Julia was not convinced, so she went undercover as Sister Rebecca, and met Father Michael, and Sisters Sarah and Agatha. It turned out that Sister Agatha had shot Mark. Meanwhile, Mason had a split personality and was living in Las Vegas as Sonny Sprockett. Gina and Keith brought Mason back with hopes of winning C.C.'s reward. However, Keith was being investigated for corruption in the D.A.'s office and was forced to leave town. Gina turned the Lockridge mansion into a Bed and Breakfast, and a cross-dresser named Bunny Tagliatti with Mafia connections arrived to rent all her rooms.
Cain's superior in the war, Major Philip Hamilton arrived, and he blamed Cain for the death of the woman they fought over, Soo Li. The Major brought Ming Li, a girl who claimed to be Cain's daughter, to help break up Cain and Andrea. Meanwhile, Eden had become a TV journalist and was investigating the local gang problems. She was raped, and gang member Critter was the first suspect. The rapist became known as the Video Rapist, as he had hidden cameras in Eden's house during the rape. When Cruz set up a costume party to help catch the rapist, Andrea was raped and killed. The Major tried to frame Cain for the crime. Eventually, the Major and Cain both left town. The rapist continued to harass Eden, and also kidnapped Julia and assaulted Sophia, Kelly, C.C., and Michael. Dr. Diane Bentley, a doctor who worked with Eden's gynecologist Dr. Zack Kelton, was also raped.
---
1989
Eden became pregnant, but the father was Cruz, not the rapist. She gave birth to a girl, Adriana, but the baby was kidnapped at the hospital. Cruz used the help of Celeste DiNapoli to determine that the rapist was Zack, who was sexually molested as a child and suffered from impotence. As Cruz tried to get Zack to tell him where Adriana was, Zack fell off a cliff and died. A psychic, Sandra Mills, helped Cruz and Eden locate their baby in Paris, where his brother Ric's wife Hollis had bought the baby on the black market. Hollis killed herself and Ric returned to Santa Barbara, falling in love with Kelly.
Scott was in love with Heather Donnelly, but their relationship was threatened by Celeste, Scott's high school girlfriend who was trying to hide her past job as a hooker. Scott chose Celeste, but broke up when he found out about her past. Heather gave birth to Scott's child, a boy named Michael, and Scott and Heather left town together.
Gina taught Sonny to act like Mason and she fell in love with him. Julia was shaken up by Mason's relationship with Gina, and made love to Father Michael Donnelly, who later left the church. Gina married Mason to help her keep custody of Brandon. Mason was shot at the wedding, and after a meeting with God in heaven, came back as Mason and not Sonny. Mason, however, continued to have drinking problems that threatened his relationship with Julia. Lisa DiNapoli took him to A.A. meetings and he was able to stop drinking. He and Julia were finally married.
C.C. hired Megan Richardson to help him write his autobiography. He learned that they had an affair 18 years ago, and Greg Hughes was their son. Greg moved to Santa Barbara and married Emily DiNapoli, younger sister of Celeste and Lisa. Megan revealed that she had leukemia left town to die.
The new D.A. was Ethan Asher, and his wife was Laura. Laura's son had been accidentally shot years ago by Michael, who was then a cop in Boston. Laura and Michael had an affair. Leo Mitchell came to town and wanted to avenge the death of his brother, which he blamed on Michael. Leo was killed, and Michael was a suspect, but Laura eventually admitted that she did it.
Robert Barr came to town and engineered a hostile takeover of Capwell Enterprises. He worked for Las Vegas mobster Anthony Tonell. Mason left to Europe to find out more about them, and later Ted left to find Mason. Bunny was also investigating Tonell when he turned up missing and was thought to be dead. Bunny suddenly showed up a few weeks later with Mason, who had been having an affair with Sasha Schmidt, Tonell's mistress. When T.J. left town, Bunny took over The Lair and hired Sasha to sing there.
Eden and Robert had been lovers as teenagers, but Eden didn't remember. He spent time in jail for the murder of Raul Mondragon, believing he was taking the rap for Eden. When Eden remembered it all, she turned away from Cruz, who didn't believe she had killed anyone. Cruz staged a reenactment of the crime on the Capwell yacht, and the murderer was revealed to be mayoral candidate Jerry Calhoun, who then jumped overboard and drowned.
---
1990
Eden decided to stay with Cruz, and Robert fell in love with Kelly. Tonell was killed, and his wife was revealed to be Augusta. Robert had some business to finish up with Tonell's men, and because he didn't want Kelly to get hurt, he left town. In his absence, Kelly fell in love with Craig Hunt, another man who used to work for Tonell. Robert returned, and Kelly decided to go back to Robert. However, Robert had been kidnapped by his twin brother Quinn Armitage with the help of Quinn's girlfriend Flame Beaufort, who had been using the name Debra London. Quinn took Robert's place, and soon fell in love with Kelly. Cruz rescued Robert, and when they returned, Robert was killed, but everyone thought it was Quinn. So Quinn continued his charade as Robert.
Gina's mother Phyllis arrived and stayed with her in the Lockridge mansion, which they had been renting from Lionel. Laura turned out to be Gina's high school classmate. Gina soon fell in love with Ethan. Eager for revenge, Laura burned down the Lockridge mansion. Because Phyllis hadn't sent in the insurance check, Gina wasn't covered, and Augusta took everything Gina owned. Gina and Brandon moved to a trailer, where they were joined by her brother Mack Blake. Laura was sent to a sanitarium, where she and roommate Annie plotted to escape kill Ethan. Instead, Laura shot and killed Sasha. Laura took the body to Mason and Julia's house in an attempt to frame them for the murder. Mason and Julia tried to protect themselves by hiding the body in a cryogenic crypt in their garage for several weeks. They were haunted by Sasha's ghost. Sasha's sister Sidney Schmidt arrived and helped them scare Laura into admitting guilt. Lionel returned and he plotted to retrieve valuable paintings he had hidden in the Capwell tunnel. C.C. actually had forgeries on display. Gina caught on and feigned blindness in order to steal the paintings as well. C.C. eventually found out and reclaimed them.
Ethan and Craig turned out to have been orphans, and they had formed a brotherhood along with Derek Griffin and Stephen Slade. As children, another orphan, Cassandra Benedict, who was staying with the Capwells, had been buried during a cave-in in the Capwell tunnel. She was believed to be dead, and the four brothers vowed to avenge her death. Derek blamed Mason, and tried to kill him. Cassie turned out to be alive and returned in time to save Mason. Derek was sent to jail, and Ethan turned himself in after being caught bribing a judge for Derek's sake. Meanwhile, Stephen convinced Sophia to return to acting. He was producing her movie, which turned out to be modeled after the Capwells' lives. Before the movie was released, all the film was destroyed in a fire. Cassie's fingerprints were later found at the scene of the fire but she was never punished.
Cruz met Nikki Alvarez on the job, and she turned out to be an undercover agent from Mexico. She soon had a crush on Cruz, but Cruz remained true to Eden. Nikki and Michael joined the police force together, but Nikki secretly used her job to help free her brother Amato Gonzales from dealers of ice, a drug that Eden was investigating for her TV station. Nikki's ex-lover Marcos was involved in these drugs and kidnapped Michael and Nikki, bringing them to the island where the drug lord was. He turned out to be Kirk Cranston. Cruz eventually rescued them and Kirk fell overboard the boat they were on during a storm. When Cruz returned to Santa Barbara, he was given a talisman by an old dying Indian. The talisman was supposed to give superhuman powers to whoever wore it, and Cruz narrowly escaped death several times while wearing it. Cruz was kidnapped by The Pasha, who wanted him to use the powers for him and to make Eden one of his many wives. Cruz and Eden eventually escaped with the help of Michael.
Mason's drinking problem resurfaced, and it affected his marriage with Julia. Mason was in charge of planning the Oasis, a new Capwell hangout. The Blue Skies Brigade was an environmental group headed by Dash Nicholas, and they opposed the Oasis project because it would endanger birds. Julia was working with Dash as a legal consultant when they slept together once consensually. The next time they were together Dash forced himself on her, although he did not realize it at first and maintained his innocence. He was acquitted of rape charges that Keith, who had recently returned as D.A., pressed. He then began having an affair with Julia's psychologist, Denise Foxworthy. Eventually, after saving a woman from being gang-raped in a bar, Dash realized that Julia had indeed said no, admitted his crime and volunteered for community service.
The Blue Skies Brigade office was blown up by Harlan Richards, a man who had financial interest in the Oasis. Nikki Alvarez was killed in the explosion. Harlan's wife, Gretchen Richards, was seeing Mack, and his daughter, Tawny Richards, was seeing Ric. Harlan turned out to be a man who changed his identity years before. He was really a man who had an affair with Carmen Castillo, resulting in Ric. Realizing they were half sister and brother, Ric and Tawny broke up.
---
1991
Minx Lockridge returned and started to rebuild the Lockridge estate. She hired Michael to find the daughter she gave up at birth and it turned out to be Cassie. Laken returned briefly and had a relationship with Amato, then getting involved in race car driving. Warren returned to town and it was revealed that he and Cassie had been lovers in the Far East before they knew she was a Lockridge. Cassie had fallen in love with Mason when he found out Warren wasn't Lionel's son and hence not related to Cassie, so he and Augusta kept it a secret for months. The guilt was too much for Augusta. She began having drinking problems and soon left town to rehabilitate. By the time Mason told Cassie, Warren had become involved with Angela Raymond, wife of Judge David Raymond. David and Angela had a troubled relationship, one that started with the coverup of her sister Marilyn's death. Warren started up the Santa Barbara Conscience, and send Flame, who was seeing Michael, off on assignment.
After what she thought was Quinn's death, Kelly was unable to return to Robert, as she believed she was in love with Quinn. She had an affair with singer Richard Sedgewick, who died of a heart attack while kissing her. Quinn was persistent in his quest for Kelly, and she eventually accepted his marriage proposal. At the altar Kelly realized it was really Quinn, and she fainted. Since Quinn was wanted by the police, they decided to end their relationship and he escaped back to England.
Gina underwent a procedure to allow her to bear children again, but did not want Keith part of her life, so he left town. She got a job at the Santa Barbara Sperm Bank and stole sperm donated by C.C. and Mason. She quite randomly impregnated herself with C.C.'s sperm. She began seeing Craig, who was working for C.C. Katrina Rukyer arrived from Germany and stayed at the Capwell mansion. When she fell in love with Dash, C.C. told Craig to drive him out of town. When Katrina found out, C.C. fired Craig. Craig had been worried about losing his job with C.C. and blew up Warren's newspaper office, letting the blame fall on Mason. He also shot Mason and killed Amato. Warren was tried for the shooting, but was acquitted. After Craig was thrown in jail, he escaped, but Cassie convinced him to give himself up.
Eden began having multiple personalities, the first of which was Lisa, a jewel thief. She and Andre Wolfe were very successful before finally being caught. When Lisa ran away from Cruz, he followed her but was unable to keep her from falling over a cliff. Although she was thought to be dead, she soon returned wearing a wig and glasses and going by the name Suzanne Collier. When Sophia finally figured out she was Eden, Eden became Channing and shot Sophia as revenge for his death 12 years before. She then left town. Soon, the real Suzanne Collier arrived, as she was a friend of Eden's, and became involved briefly with Cruz.
Santana Andrade escaped the mental hospital, only to be run over by Dr. Grant Jameson, a respected doctor who eventually confessed. She became involved with C.C. Ted returned, and Lilly Blake returned, soon falling for Ted, who was more interested in Katrina. After Suzanne wrote an article about Dash, he was flooded with job offers, and reluctantly left Katrina to accept a job in St. Louis. Gina gave birth to Channing Creighton Capwell III in a veterinary office.
---
1992
Eden sent Cruz divorce papers, and he turned to Kelly for romance. At his 20th high school reunion, he met old friends Reese and Jodie Walker, who were also police officers, and soon they returned to Santa Barbara. Their daughter, B.J., was disguised as a boy named Troy, and was attending Warren's journalism class. Soon everyone found out who she was. They also found out that she had been sexually abused as a child by family friend Frank Goodman. Frank took Jodie and Cruz hostage, where she admitted to Cruz that B.J. was the result of an affair she and Cruz had. Soon, after a scuffle with Sawyer Walker, Frank died of gunshot wounds. Sawyer was a suspect, and escaped town with his girlfriend, Aurora DeAngelis. Cruz found B.J.'s dress with gunpowder on it, and in attempt to take the blame for his daughter, signed a confession note and fled the country. Eventually, B.J. was arrested by agent Connor McCabe and tried for the murder. B.J. was having trouble dealing with the events, and was seeing psychiatrist Skyler Gates. Julia defended her in court, and at first B.J. all but admitted to the crime, but later remembered on the stand that Frank had shot himself. She was acquitted and married Warren, who had stood by her all throughout the ordeal.
Mason married Julia at what she thought was a funeral service for C.C.'s brother Grant. They moved into the mansion of Ballymoor, which turned out to be haunted. One day Samantha stopped breathing, only to be saved by Marcus Disgrazia, who turned out to be Dr. Micah DeAngelis. Abigail Beckwith was after Aurora's inheritance, but was finally discovered. Julia and Mason moved back into the Capwell mansion, where they ran against each other for judge during the B.J. Walker trial, when Mason was serving on the bench. After Mason was the initial projected winner, Julia turned out to win the position. After they were unable to conceive another child, they picked up a young pregnant girl, Gracie Lively. As they were deciding to adopt Gracie's baby, Julia finally became pregnant.
C.C. wanted custody of Channing from Gina, but eventually Lionel married Gina and became the adoptive father. Gina became a successful designer of Gina Jeans and hired Rafe and Lisa to model them.
Santana became pregnant with C.C.'s child, and they became engaged. But when she miscarried, she broke off the engagment and left town. Sophia married Ken Mathis, but he was after the money in Armonti Industries, and was having an affair with Andie Klein. He began drugging Sophia so that she would be sick enough to give him more control of the company. Kelly and Connor suspected that she was being drugged and found out that Ken's first two wives had died of strychtnine poisoning. When Sophia nearly died of the same thing, Ken was arrested. However, Andie was the guilty person and was caught by Connor, but not before killing Ken in jail.
Lilly fell in love with Rafe Castillo, but Lisa Wilson faked a pregnancy to force him to marry her. The marriage turned out to be a forgery as well, since the minister was only an actor. Lisa then faked a miscarriage to keep Rafe close to her. When Katrina found out about Ted's affair with Angela, she left town and went back to Germany after a final stop in St. Louis to see Dash. When Angela turned to C.C., Ted and Lilly pretended to have an affair, hoping to make Angela and Rafe jealous. They ended up falling in love and were married.
Return to the Santa Barbara home page