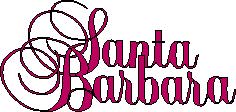 Frequently Asked Questions
Please feel free to e-mail me if you have any further questions, corrections, or comments.
Last updated June 18, 2002
---
Where can I get video tapes of Santa Barbara episodes?
Where can I get audio tapes/CDs of the songs played on Santa Barbara?
Where can I write to my favorite Santa Barbara actor?
Why was production of Santa Barbara stopped?
Will Santa Barbara ever be aired in the United States again?
Where are the summaries for episodes 331-812?
Can you tell me what happened/will happen on Santa Barbara?
Was Leo DiCaprio really on Santa Barbara?
Where can I get a copy of Eden and Cruz's wedding vows?

---
To the best of my knowledge there are no video tapes of Santa Barbara episodes officially for sale. However, you may have luck obtaining tapes from other fans. There are several tape-trading links listed on the Links page that should be a good starting point.
If you have any specific requests that you haven't been able to find, let me know and I may be able to at least point you in the right direction.
Most individual songs played on Santa Barbara that were not written by the SB musical staff are available on albums released by the artist that performed them. You can find many of these at your local record store.
There were two albums produced in 1986 and 1988, respectively, by New World Television and sold under the Puppytracks label. These were compilation albums of songs written by musical director Dominic Messinger and the rest of the SB musical staff:

Santa Barbara Love Themes
Contains "I Want To Live in Santa Barbara", "Reunite", "Golden Gate", "Miami Beach", "Salt Air", "Santa Barbara Theme (Dance Version)", "Sweet and Simple", "Change Up/Change of Pace Melody", "Action Jackson", "Chaplis", and "Mrs. Capwell's Cookies".
Santa Barbara Love Themes Vol.l II
Contains "I Want To Live in Santa Barbara (Part II)", "Remember When", "Mountain Man", "All Alone", "Who Loves You", "The Miracle of Love", "Vivian's Eyes (Pamela's Love Theme)", "Bad Boys", "The Utah Suite", "Together In Our Dreams", and "Happy Ending".
I believe these tapes are no longer in production, but you might find other SB fans on the internet who will make copies for you. A good place to start is the tape-trading section of my Links page.

I also know of three albums of Soap Opera songs that contains songs heard on Santa Barbara:

Soap Opera's Greatest Love Themes Vol. 1
Contains "Santa Barbara" (title theme song), "Welcome to the Edge" (Kelly and Robert), and "Yours" (Mason and Julia).
Soap Opera's Favorite Wedding Music
Contains "The Change in Me is You" (theme of Eden and Cruz).
Soap Opera's Greatest Love Themes Vol. 3
Contains "Don't Say Goodbye" (the theme song from the final episode).
Unfortunately, these are no longer in production either, so you'll probably have to do some searching of used record stores to find them.

There were also two CDs released in Germany in 1994 that contained a collection of songs from SB. The songs on these CDs are listed on the tape-trading section of Sarah's SB page. For more information, send e-mail to KeZarbock@aol.com or Kerstin.U.F.Stoer@ewf.stud.uni-erlangen.de

You can also order CDs directly from James Dunne of songs that he has written for Santa Barbara, including "The Change in Me is You" (Eden and Cruz) and "Dad's Theme" (CC). For more infomation, see his web site www.jamespatrickdunne.com

For information about songs written by Roxanne Seeman and Billie Hughes including "Welcome to the Edge" (Kelly/Robert/Craig), "Two Worlds Apart" (Julia and Michael), and "Turn It All Around" (Julia and Michael), visit www.noanoamusic.com or check out the iTunes Music Store.

There are a growing number of web sites that contain audio files of some of the songs used on SB. Eden and Cruz Heat Wavs has a good collection of Eden and Cruz songs. The Links page will help locate others.

Since Santa Barbara stopped production of new episodes in 1993, it can be difficult to contact the actors unless you know where they've been working recently. It is fairly routine for the major U.S. television networks to forward fan mail to actors working on their current shows. You may have to do some searching to find out whether the actor has been doing any recent work. The Internet Movie Database is usually a good place to start your search. The addresses of many U.S. television networks are listed here.

Make sure you write the name of the actor and show on the envelope. I've had a fair amount of success writing in care of the networks. Some actors are better at replying than others. Some never reply at all, but most will at least send you a form fan newsletter. Expect to wait at least a few months before getting a response.

Many current shows now have official pages on the web, run either by the network or by the production company. Some of these pages allow you to send e-mail to the stars.

For those actors who have gone on to working in movies, your best bet would probably be to write in care of the movie's production company. I haven't had much experience in this area, so if anyone has any tips, please let me know and I'll add them here.

In late 1992, NBC, the broadcast network that aired Santa Barbara, announced that it was canceling the show from its daytime lineup. Santa Barbara always had low ratings in the U.S., but ratings were dropping even lower in 1992. Several of the local NBC affiliate stations had already pulled SB from their stations, including some in major TV markets. This was the main reason cited by NBC. After NBC's announcement there were reports that another network might pick up SB, but that never materialized and production was stopped. The final episode aired on January 15, 1993.

There were a number of factors that prevented SB from ever attaining high ratings and widespread popularity in the U.S. In most TV markets, SB was scheduled directly against General Hospital and Guiding Light, two long-running serials with well-established viewerships. Other markets put SB up against The Young and the Restless, another highly-rated soap. Although SB was highly-praised by critics (winning three consecutive Emmys for Outstanding Drama Series from 1988 to 1990), there was quite a bit of turmoil behind the scenes. In 1987 disputes over creative control of the show led to the co-creators, Bridget and Jerome Dobson, being removed from and locked out of the studio by the production company, New World Television. This in turn resulted in multi-million dollar lawsuits filed by both parties. Although the matter was settled several years later, the damage done to the show was irreparable. The legal struggles, as well as a writers' guild strike caused a rather high turnover, not only with the writers and producers, but also with the actors, some of whom were very loyal to the Dobsons. All of this hurt the development and consistency of key characters and storylines.

Many people point to the departure of Marcy Walker and A Martinez to prime time shows in 1992 as the beginning of the end. Although Eden and Cruz were SB's most popular characters, the truth is that the show's problems ran far deeper than the loss of its super-couple. Quite simply, SB was never able to sustain the momementum it had generated in the mid to late 1980s.

I certainly hope so! Judging by the response I've gotten from maintaining these web pages, there is still a very strong interest among Santa Barbara fans in the U.S. in seeing the series re-run from the beginning.

There have been several different plans for a soap opera cable channel over the past few years. Two different groups have revived their plans in 1999 for channels to be launched in 2000. The latest developments on the soap opera cable channels are discussed on a separate page.

There has also been speculation that some existing cable channel might purchase the rights to rebroadcast Santa Barbara. One possibility is the fX channel, whose parent company, News Corporation, is also the parent company of 20th Century Fox, which acquired New World Television in 1997. New World Television is the company that produced Santa Barbara, and as I understand it, owns the rights to Santa Barbara jointly along with Dobson Global Entertainment. Although fX seems like a logical choice due to the News Corporation link, the business side of it probably isn't quite that simple. In fact, another New World program, The Wonder Years, is currently being rebroadcast on Nickelodeon, which is a subsidiary of Viacom, a rival media giant. I have also heard reports that the Lifetime cable channel is considering adding Santa Barbara to its programming lineup.

You may wish to write to these networks and encourage them to show Santa Barbara. The addresses of these any many other U.S. television networks are listed here.

All of the summaries on the Episodes page were written by volunteers around the world who have contributed to this web page by submitting summaries of the episodes that were airing in their country. Hopefully all the gaps will eventually be filled in. However, I suspect that summaries of the earlier episodes will be more difficult to get because most of the stations around the world that are still airing Santa Barbara are showing the later years of the series.

If you are interested in writing summaries for any of the episodes that are not on the Episodes page, please send me e-mail.

I get these questions most often from viewers around the world who either are currently watching old episodes in their country and want to know in advance what will happen, or from viewers who, for one reason or another, were unable to continue watching the episodes and would like to know how a particular storyline ended.

For a brief summary of what happened each year of Santa Barbara's production, please make sure to read the year-by-year summary on the Synopsis page. And, of course, there are summaries for many of the daily episodes on the Episodes page. But feel free to ask me via e-mail for details on any specific plotlines.

Yes. He played Mason Capwell as a young boy in flashbacks of when Cassie was trapped in the tunnel cave-in. This was part of the "four orphans" storyline that originally aired in 1990.

I've been told that the exact episode in which DiCaprio appeared was originally aired in the U.S. on May 30, 1990, and that the episode number was #1472.

I was always surprised at how many people asked for this. They are now on the web at Rina's Santa Barbara soap homepage. Rina has transcribed them herself for other fans to enjoy. If anyone actually decides to use them in their own wedding, I'd be interested in hearing about it.