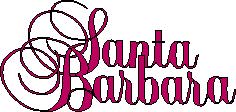 August 1, 2006: Removed a bunch of dead links.
March 31, 2005: Corrected some episode numbers on the episodes page. Episode numbers 117-250 were off by one, and they are now corrected to 118-251.
May 23, 2003: Inspired by the recent announcment that Another World will soon be rebroadcast on SoapNet, a new e-mail group has been formed to re-organize efforts to bring SB back on the air, too.
August 13, 2002: Corrected some of the episode numbers on the episodes page and started noting the original U.S. airdates of episodes, where known.
July 15, 2002: Added some great new trivia questions sent in by a fan.
I haven't noted much here lately, but I've still been making minor additions and corrections to various pages as they come in.
Not much news on the soap channel front recently. Unfortunately, it appears that the santarbarbaralives e-mail list has been disbanded.
October 15, 2000: I've updated the page on the soap opera channels based on some recent news. Apparently SoapCity posted a message on its web site in January exploring the possibility of selling SB episodes on video. Check out the SoapCity page and go to the Vintage Soaps message board. You are supposed to register to get in, but you might have some luck using this link too.
There is also been a lot of recent activity on the santabarbaralives mailing list. Several fans on this list have had communication with SoapCity about their plans for SB. Check out the list archives for more details.
July 19, 2000: Make sure you sign the online petition that will be sent to SoapNet encouraging them to rebroadcast Santa Barbara.
I've added a link to The World of Soap Themes which is a collection of audio and video clips from soap opera opening and closing themes. Presently there are only two Santa Barbara audio clips, but anyone with additional clips is encouraged to contact the author of that site.
April 8, 2000: Nothing much new to report on the soap opera channels, but here is a response from the people in charge of SoapCity to a fan who wrote to them. Though it offers no promises, it should be considered encouraging that final decisions have not yet been made and that they do acknowledge fans' request for the re-airing of Santa Barbara. I hope this response will encourage more people to write to both SoapCity and SoapNet requesting SB. And remember that letters sent via the postal service carry more weight than e-mail.
Those of us who long for the earliest episodes should be sure to check out this Swedish web page. Santa Barbara has just started airing the 1984 episodes in Sweden, and the author of this page has been kind enough to provide pictures and summaries in both Swedish and English.
January 29, 2000: More news on the soap opera channels: SoapNet has now launched, though not with a very wide distribution yet. SoapCity, the network that had purchased the rights to SB, appears to be dead. Stay tuned. I've added a few more Links, including a new message board.
December 19, 1999: Happy holidays, everyone! I have updated some news on the proposed soap opera channels, including SoapCity and a soap channel in Europe. The SoapCity channel may be encountering financial difficulties, but now you can sign an online petition at http://www.geocities.com/santabarbarafans to encourage them to show SB.
November 24, 1999: There's a new SB message board here. Lane Davies is playing The Spirit of Christmas Present in his company's rendition of Charles Dickens' A Christmas Carol. Details here.
August 17, 1999: I've made additions to the Cool Links page. Of particular note is a link to Laken's Santa Barbara Discussion Page. It's a new message boards web page and it already is quite active with lots of SB talk.
July 11, 1999: I've made a bunch of additions to the Songs List.
I've also updated the soap opera cable channel page with some recent reports regarding the SoapCity cable channel and its plans to air Santa Barbara reruns. I've also listed an e-mail address for SoapCity. It's looking like SoapCity indeed intends to show SB. It still remains to be seen exactly when SoapCity will launch and how widely it will be carried by cable companies and satellite networks.
May 17, 1999: I've added a new page with the latest news about two soap opera cable channels that are scheduled to launch in the U.S. in 2000. Hopefully one of them will re-air SB. I've also made some minor changes to the FAQ page.
March 26, 1999: I've updated the FAQ page to include some information on audio CDs that were released in Germany. I've also made a few more additions to the Crew List.
March 3, 1999: I've added quite a few names to the Crew List thanks to a list submitted by a fan in London. I've also added a few new SB-related web links to the Links page.
February 5, 1999: I've added to the Misc section another list of quotes from SB, this one sent in by a viewer in Russia. I've also made a few more corrections to the Songs List.
January 9, 1999: Happy New Year! I've received a bunch of additions to the Songs List recently. I highlighted the changes in red for easier identification. Let me know if you like this, and I'll consider doing it for some of the other pages, too.
December 23, 1998: Happy Holidays to everyone! Fans of The Magnificent Seven, starring Eric Close, will be pleased to hear that the show will return in the U.S. on the CBS network starting Friday January 8. A Martinez will appear in a guest role this season. For more information, see www.magnificent7.com.
October 31, 1998: I've updated the Songs List and alphabetized the songs by title for easier reading.
October 24, 1998: I've made many additions to the Awards page.
October 16, 1998: There a couple of upcoming events of interest to SB fans. First, there will be a SB chat session on the Delphi Soap Opera Forum starting October 18 every Sunday at 10 p.m. US Eastern Time (02:00 UTC Monday, and 03:00 UTC after October 24, when the US clocks change). You must register to participate, but it is free. For details go to http://www.delphi.com/soapopera or e-mail DonnaB at cavalier@alltel.net.
Second, for those in the Los Angeles area, on November 1 Nancy Grahn will perform in the A.R. Gurney play "Love Letters", which is being directed by Lane Davies. For more information, go to the Santa Susana Reperatory Company web site or call (805) 449-ARTS.
October 2, 1998: I've added several new links recently to the Cool Links page, including links to some new tape-trading pages and an e-mail discussion group.
August 22, 1998: Added the Where Are They Now? page.
August 2, 1998: I have made quite a few additions to the Character List based on information that several people have sent me recently.
All the actors listed on the Character List are now on the Cast List page. I also fixed the links to the Internet Movie Database, which were broken recently. I've added the year(s) each actor appeared on Santa Barbara, and I removed the listings of other appearances next to each actor's name. With over 400 actors listed, it became rather time-consuming to keep track of all of them. The Internet Movie Database already does an excellent job of that. Instead, I am planning a Where Are They Now page that lists only the most recent work of some of the regular cast members of Santa Barbara.
July 1, 1998: I've added a new Frequently Asked Questions (FAQ) page.
I also reduced the file sizes of the images on the front page. This should make it load a little faster, especially for users dialing up over slow modems. It will also look better with text-based browsers such as Lynx. Let me know if it makes a difference.
June 9, 1998: I've added a bunch of new characters to the Characters page. There are still quite a few gaps in the descriptions, so if you see one that you remember, please let me know. Also, the Cast List page is no longer in synch with the Characters page. I will be fixing this soon.
May 13, 1998: I've reformatted the Characters page to make it easier to read. I also added a brief description of each character.
April 16, 1998: I've recently added to the Awards page most of the major Emmy nominations for acting on Santa Barbara. I'd now like to find more complete information on the Soap Opera Digest Awards.
December 3, 1997: I've created a page here about the upcoming showing of of Santa Barbara's premiere episode at the Museum of Television & Radio. If anyone in the New York or Los Angeles area is planning to attend and is interested in writing a summary of this episode, please let me know!
November 13, 1997: I've added several new Santa Barbara-related links to the Cool Links page recently, including a Mason and Julia tribute page and an updated web page for the Santa Susana Reperatory Company.
September 17, 1997: The new TV season in the US has begun this month. That means brand new shows for some Santa Barbara actors. Eva LaRue (who played Margot Collins on SB) has left All My Children for her new show Head Over Heels, which airs on the UPN network Tuesdays. Also look for Mitchell Ryan (Anthony Tonell) on Dharma & Greg, ABC Wednesdays; Constance Marie (Nikki Alvarez) on Union Square, NBC Thursdays; and Harley Jane Kozak (Mary DuVall McCormick) on You Wish, ABC Fridays.
August 20, 1997: Elad has written an excellent summary of the Elena Nikolas storyline. Look for it on the Episodes page.
August 8, 1997: I've added a link to the Usenet discussion newsgroup rec.arts.tv.soaps.misc in the Cool Links section.
Fans of Roscoe Born (Robert Barr) will be glad to know that he made his debut on All My Children this week. That also means you can still write to him in care of the ABC network. I probably get more questions about Born than any other actor, but he is fairly reclusive and tends to keep his life private. Maybe now that he's on a more popular show we'll learn more about him.
July 27, 1997: I've added a few more minor characters to the Character list and a bunch of new titles to the Songs list.
July 17, 1997: I've recently made a few minor changes to the International list, added several new names to the Crew List, and made lots of additions to the list of Awards.
July 2, 1997: I've added quite a few names to the character list, though most are very minor characters.
June 25, 1997: The server where this site is hosted seems to be fairly stable once again, so I have resumed updating the SB pages. I've recently made changes to the Episodes page, the Crew List and the Songs list. A lot of people have sent me some great changes the past few weeks, especially additions to the Character and Cast lists. I haven't had a chance to put them all up on the page yet, but I will do that very soon.
May 23, 1997: SB fans who check this site on a regular basis have probably noticed some major difficulties in accessing it over the past two weeks. The internet service provider that I use to host these pages has had some technical problems in attempting to upgrade their connection to the Internet. The connection to www.cybercom.net is currently very slow, as they are using ISDN lines while waiting for their T1 upgrade to be installed. Hopefully, the upgrade will be completed within a couple of weeks.
I probably won't be making any changes to the SB pages until all the problems are resolved and the faster connection is restored.
I realize that some e-mail sent to me recently may have bounced. If anyone has sent me e-mail recently that I haven't acknowledged, I apologize; please try sending it again.
In spite of all the recent problems, please be assured that I have no plans to discontinue the SB web page.
April 21, 1997: I have added a lot of new songs to the Songs list thanks to Birgit in Germany, who sent me her own list.
We also now have new updates on the Episodes page written by Thanos in Greece.
March 24, 1997: I've gotten lots of submissions for the International page since last week. Thanks to all of you and keep them coming! SB is still being shown in at least 20 different countries.
I've also added another trivia quiz written by Elad in Israel.
March 18, 1997: If you thought the front page looks a little different but can't quite figure out why, it's because I've changed the fonts of the header images. The old images were generated by Jean, the creator of the SB web page, and I wasn't able to obtain these fonts when the pages were passed on to me. Hopefully the new fonts will keep the same look and feel of the page. Since I'm now generating my own header images, I can add some much-needed new headers...
I have put a link to the Songs list on the front page, since it is one of the more popular sections. I've also added an Awards page which shows some of the awards earned by the SB cast and crew. And finally, the new International section is something that has been suggested by several people. It's a list of all the countries around the world that have shown or are still showing SB (a.k.a California Clan). As always, additions or corrections to any of this information is greatly appreciated.
March 6, 1997: I have added a detailed summary of the first six months or so of the show, written by Beate in Austria. This is wonderful reading if you never saw SB from the beginning or if you'd just like to refresh your memory. It's on the Episodes page.
February 12, 1997: I have made a few updates to the Songs List and made the format more readable; I've also added to the character list a few extras that I found in the Internet Movie Database and a couple other sources; and I've put a great collection of humorous quotes in the Misc section.
January 31, 1997: It was brought to my attention that various biographies on the web of Leonardo DiCaprio, the star of the film Romeo and Juliet, list him as having a small role as a teenage alcoholic on SB in 1988. I've been trying to figure out what storyline he was in. My first thought was that maybe he played the guy who was dating Cruz's sister Carmen, and whose drunk driving accident killed Hayley. But DiCaprio would have been only 14 then, and that seems a little young. Or perhaps he was one of the gang members Eden was interviewing for the TV station right before she was raped. If anyone has any ideas on what DiCaprio's role was, let me know so I can add it to the character list.
Constance Marie, who played Nikki Alvarez on SB, appeared in a guest role this week on Spin City, the sitcom starring Michael J. Fox. I don't know if she will have a recurring role or not, but I'll keep my eye open for it.
Eva LaRue (Margot Collins on SB) and John Callahan (Craig Hunt on SB), who currently play a married couple on All My Children, were recently married in real life. They weren't on SB at the same time, though.
January 29, 1997: I have added a few new links to the Cool Links page as well as another new trivia quiz written by Elad in Israel.
December 3, 1996: Recent additions include: a link to the Santa Susana Reperatory Company web page, a new trivia quiz, and a couple more additions to the song list.
Novemeber 14, 1996: I received a nice surprise when I logged in yesterday and found an e-mail message waiting for me from A Martinez! He wrote to me to tell me about his new home page on the web. It's a wonderful way for fans to keep up to date on his latest projects. As I found out, he is also a musician, having released his own album. Maybe he should collaborate with The High Lonesome! Anyway, to the best of my knowledge A is the first Santa Barbara actor to get on the Internet publicly! You can visit his page at www.amartinez.com and from there you'll find his e-mail and US Mail addresses as well as lots of other great information about him.
October 21, 1996: Over the weekend I added several new songs to the SB songs list. Several of the additions were submitted without any artist, so let me know if you can help fill in the missing information.
As I mentioned on the Family Tree page, I think the family tree images are getting a bit difficult to read, so for now I'm not making any modifications to the tree images. I'd like to re-format them so they are a little more clear. If anyone has software that you think would do the job, and you'd like to help out, please send me a message.
Finally, I received a press release from Rick Rhodes about an upcoming one-man show starring Lane Davies. SB fans in the Southern California area might want to check it out. It would be great to get a report on this show for the web page!
October 8, 1996: We now have a second viewer who is contributing summaries for the Episodes section, Elad from Israel. Also, if you haven't already noticed, there are two additional sets of SB trivia questions in the Quiz section. Enjoy!
September 19, 1996: Thanks to all who have sent me corrections. Most of the changes the past couple weeks have been to the character list and the song list, as well as the episodes from Austria.

For those in the US, Nancy Grahn will be on General Hospital starting next week. Several other former SB stars are on new shows this season. Ally Walker (Andrea Bedford) stars on Profiler which airs on Saturday night on NBC. Eric Close (Sawyer Walker) is on Dark Skies, also an NBC Saturday program. And Tamlyn Tomita (Ming Li) is on The Burning Zone, which is shown on the new UPN network Tuesday nights. Check them out!
September 4, 1996: Greetings everyone and welcome to the Santa Barbara home page at its new location! My name is Jim Armstrong. I've recently taken over the page from Jean Reese, who asked me to take it over, as she is moving to a new city and job. Some of you may recognize my name from my posts about SB to the Usenet newsgroups rec.arts.tv.soaps.* dating back to the late 1980s. I also contributed to, but did not attend, the SB Mini-Conference held in 1993. I would love hearing from those I corresponded with back then.

As for these web pages, I think Jean did a wonderful job and I intend to keep things pretty much the same. I have made arrangements with Beate, our Austrian viewer, to continue with the episode updates as often as she is able to write them up. However, the number of photos that accompany the episodes will be reduced and possibly eliminated altogether. This is because the images are beginning to take up a lot of disk space and downloading them adds a significant load on the web server. My internet provider puts limits on this sort of thing. Also, the process of converting the images is a rather complex and time-consuming procedure. I would like to put up a few photos of new characters as they come up, though.

I would also like to keep the cast lists as up-to-date as possible. If you see any of the SB actors on other television shows, let me know. I also follow the rec.arts.tv.soaps.misc newsgroups for this sort of information. For starters, does anyone know if Nancy Grahn will be back on Murder One this season?

If you have any suggestions or comments, send me e-mail
Return to the Santa Barbara home page