GammonEmpire - review
Introduction:
Online playing is one of the most popular areas invented by the internet, especially for which have always been very popular games; such as backgammon. After a few online backgammon games on a very basic softwares I didn't understand it. I tried to look for something different: a program that can improve my skills, a program that can provide me the option of playing on money and by that will give me the feeling I am looking for. The first time I entered the GammonEmpire site it came clear to me; the GammonEmpire site is really amazing. Its realistic design and very respectable looks and having all the information needed on the site (security, FAQ etc.) - thing that makes you feel safer while surfing- I felt like maybe it can be as good as the real thing.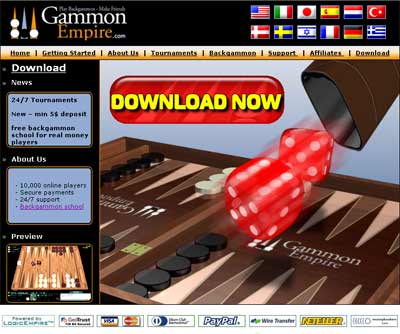 After playing many games I can say that The best software on the internet is the GammonEmpire: friendly, so realistic, you can even hear the sound of the board…I think what makes this backgammon software so unique is that it is being used by the play 65 site also and, of course, two amazing communities, collaborating, can make a much bigger mass of users. The great development of the program is another result of this collaboration; it is much more progressive than other online backgammon softwares.
The GammonEmpire software: how does it work?
You download the program (it took me a few seconds) and that's it! Just roll the dice! You don't wait for some program based on flash /java to be downloaded, neither for annoying advertisements. Log in and you have access to million and more users and 10000 or more GammonEmpire players every hour!, you can enter many rooms, each one containing new challenges by different opponents, you can win thousands of dollars on tournaments and you can choose between single games, series games and even enter the GammonEmpire school for backgammon.
The software of GammonEmpire
You can be a beginner playing your first backgammon game, you can be a pro, coming here in order to make some money; the GammonEmpire community will always have someone on your skill level to play against. The interface of the program is amazing - you can see for yourself - the GammonEmpire developers gave it a lot of thought.
GammonEmpire's backgammon: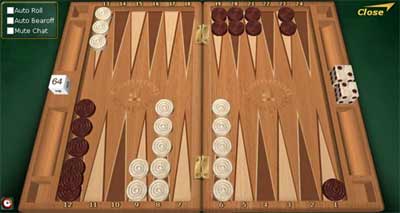 Gammon Empire - the bottom line
For backgammon lovers Gammon Empire is very good software; very friendly; uses the most advanced backgammon software available on the internet and it gives you the real thing feeling, including the very realistic sound and a fast chat system which helps you talk with your opponents.
GammonEmpire - the bottom line
If you are backgammon lovers, GammonEmpire is exactly the site for you; very friendly; using the most advanced backgammon software on the net and makes you feel like playing the real thing having a chat system which helps you communicate with your opponents- what else can you ask for?
Gammon empire site:
Read more Backgammon Articles